You might notice that it's taken me three weeks to write up this little fireworks-fest and in fact, I've started writing about Christmas already so was tempted to leave it. But it was a good day out and deserving of blogging…just, the end of the day leaves me shaking in horror still. You'll see why. Or maybe I'll gloss over it. I suspect I'm not ready to talk about it yet.
I'll set the scene. We'd been in quarantine all week, with Eva's sickly tummy. We'd missed the Walthamstow fireworks on Wednesday night, which had left Roo sobbing himself to sleep. By Saturday though, we'd had 72 hours clear and were in the mood for adventure. Or at least a venture outside the front door. I'd heard of a fireworks event at Gunpowder Mills, Waltham Abbey which sounded promising – it opened at 2 and such was our enthusiasm that we were parked up outside at quarter to, waiting. I do love the outside world and I miss it when we're in quarantine. The only saving grace of this week was that I'd had Sarah the Cheery Decorator and her dog to talk to, otherwise I might have lost it completely.
So, could we kill 5 hours in an old gunpowder factory? It certainly seemed possible, with a playground, galleries and theatre shows going on. We hit the playground first as I predicted it'd get dark soon and possibly even rain.
I was right. Next step – meteorology.
The playground was a fairly simple wooden assault course, which reminded both me and Nathan of holidays in Devon. Roo loved the aerial runway and took quite some persuading to come inside. But I was cold and intrigued by the prospect of the Rocket Vault and the Mad Lab, which promised science and crafts. True enough, there was a free lantern-making session, with a very friendly lady on hand to help Reuben. Nathan also made one on Eva's behalf:
Such a look of concentration! There were also science experiments going on, with one of those weird liquids that turned into a solid when you touched it. Nathan and I spent far longer playing with it than the kids – it was pretty compulsive. Meanwhile, the kids were busy making their own snot:
Then it was time for Professor Nitrate's Science Show! One of the things I really liked about the day was that it included two free theatre shows  – one to explain the science behind explosions and the other to give the history of Guy Fawkes. And the science show did not disappoint, with kabooms aplenty. A few mentos in a Coke bottle here, a bit of rocket fuel there…it was lots of fun. We had the usual meltdowns about Reuben not being in the show, but he got over it quickly.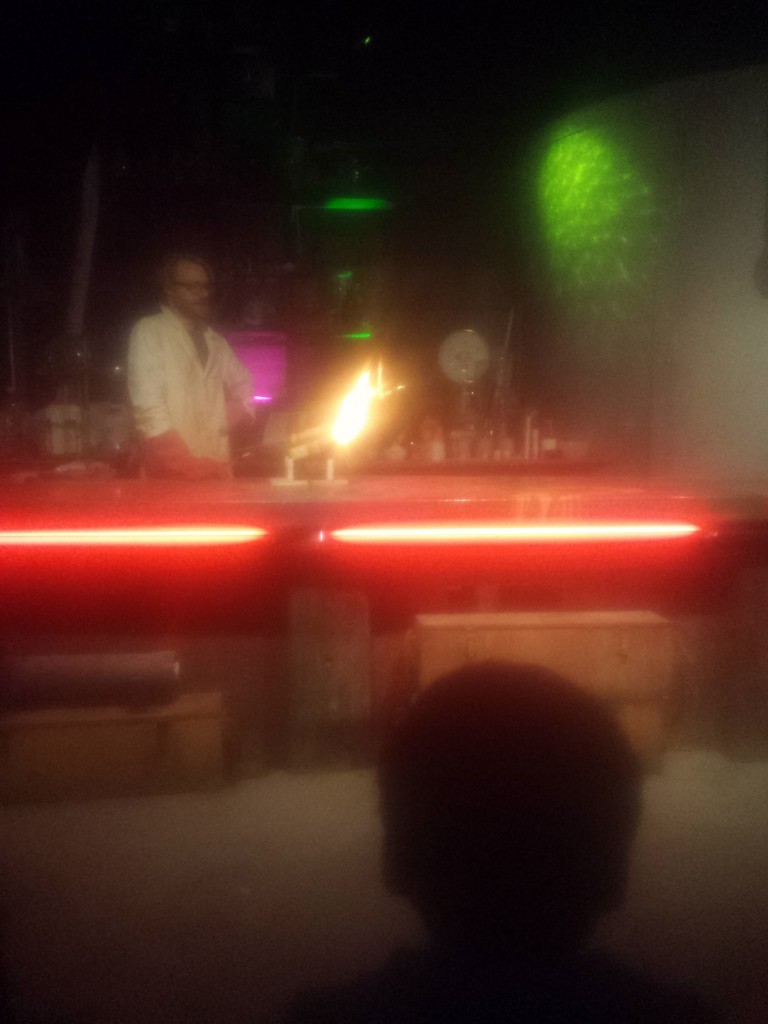 We were planning to space the shows out a bit, but a kind Tudor lady told us that the later ones would get manically busy, so we went straight on to the Guy Fawkes show, missing only a few minutes at the start. Professor Nitrate made it there shortly before us, transforming into a 17th Century conspirator before our eyes. Roo was once again keen to get involved, and this time he did – on the stage, as part of a long fuse connected to some dynamite. The only time you'll hear "Roo" and "long fuse" in the same sentence. There was a lot of audience participation, and the story was presented in an irreverent, Horrible-Histories kind of way that small boys love. Eva was a bit fidgety, but I think she wanted to be on stage too.
Meltdowns, rain and crowds of people were all imminent. It was 4:30, which is darn near tea time in toddler world so we went to the cafe and were pleasantly surprised by how much was on offer. I'd kind of just expected sandwiches, but there was a good range (mostly chips and stuff…but I never mind that) and a kids' menu too. Roo was thrilled by the stick-of-dynamite order holder.
Roo wolfed his hotdog down. Eva didn't eat much. Maybe she still wasn't feeling well? As we finished, the cafe filled with soggy people – evidently, the torrential rain had started. It seemed like the fairground might be a bit of a bust. Luckily,there was a whole building full of galleries to check out while we waited for the fireworks to start.
As you'd expect, the galleries told the story of the mills and all the useful ways gunpowder helped the world. I was a little freaked by the armoury, which felt a bit American to me (kids with guns, anyone?) but the rest of the galleries were really interactive and fun. There was a simulation of a gun deck aboard ship, where kids had to throw cannonballs down tubes while being shouted at by an angry video sailor. There was a touchscreen computer game about working in the mills. There were lots of lever to pull and buttons to press, and some photo opportunities:
And then? The horror. Turns out 72 hours wasn't enough for Eva to fully recover from her little bout of sickness. I legged it to the toilet with me, missing both changing bag and husband and then had to do what I could with some toilet roll and antibac soap. You really don't want the details. Suffice to say she didn't go to the fireworks, but as we'd waited so long I wasn't about to let my boys miss them. Eva and I went to sit in the car, in the dark, with a dying phone and the patter of rain on the roof. It was as pathetic as it sounds.  I watched the fireworks in the reflection of the car next to us.
Nathan and Roo did have some fun, buying sparklers and hearing the musket-salute which started the fireworks off. True, the boy turned into an overtired, whingey mess halfway through the display and asked to go home but I believe that's standard issue for Bonfire Night. Both kids fell asleep on the drive home.
What to say? It would have been a great day, but Eva's "issues" put a dampner on things. I don't know if I can ever return. But you should go next year – it's a great way to teach your kids about fireworks and then see the real thing. But just leave it a full week after stomach bugs…