Today we went to the Fireworks event at Royal Gunpowder Mills. Some of you may know why we haven't been there for three years – our last visit ended somewhat disgustingly, with a toddler who was neither completely toilet trained nor completely over her stomach bug, despite a clear 72 hours.
It took some going back but I'm glad we did as the day went off almost without a hitch. The toddler is now 5 and mainly toilet trained but now at an age where she's terrified of everything, including fireworks. I did say *almost* without a hitch.
This morning we were at church, for the joyous church work day where you sweep up wet leaves in exchange for pizza. There was a fairly tedious drive after that up Green Lanes and through Tottenham, that meant we didn't land in Waltham Abbey till 3 – a full hour and 15 minutes later than last time (although that was a full 15 minutes earlier than the gates opened). There's access from 2, but actually 3 was about right as we got time to do everything but didn't feel like we were hanging around too much.
Obviously, the first thing the kids wanted to do was play on the play area:
But there was a "Ghost of Guy Fawkes" show on at 3:30 so we ushered them along, hoping to get seats all together. It was pretty packed out, so it's just as well we went early. Incidentally, I had to censor myself when I was telling Eva what the show was called because any mention of ghosts might have made her point blank refuse to watch it. Even though she played a ghost in her last Perform show. Sigh.
As it happened, there was nothing at all to be scared of in this show, even for a delicate flower like Eva. Just two actors – one playing Guy Fawkes and the other "Master Anthony"/Every Other Character – and a whole lot of shouting and silliness. The kids both loved it. Guy Fawkes explained how he'd got caught up in the plot and the how he was tickled into writing a confession, which isn't *far* from the truth as I understand it. There were some terrible puns and a chase right round the theatre. Great fun and even mildly educational.
After that, we fancied doing something a bit more active so headed for the Spink Gallery on the far side of where the Queens Mead, to make some cellophane lanterns. Reuben had a few nitpicks with the instructions (he thinks the cellophane should go on the inside) but they both seemed pretty happy with the finished products:
While Eva was still faffing about with bits of sellotape, the boys went out to see the display of musket firing. I knew it was happening but it still made me jump.
Then we just had time for the slime making (a 5-minute activity with a bit of queuing) and a look round the rockets gallery before the Kaboom show at 5PM.
Again, it was pretty packed. Standing room only for adults.
Dr Neutron looked suspiciously similar to Guy Fawkes but he assured us he was a different person. The show was about fire and explosions and I only caught the first 5 minutes before sneaking off to order food but yes, there was fire and the kids tell me there were explosions. Reuben said it was awesome. He's at the right kind of age for bangs and crashes.
It was definitely the right call to get in early with the food. I figured that everyone would have the same idea as us and be trying to feed their kids at the same time. The system was very swift though – there was a choice of chilli, bacon rolls, hot dogs or sausage and mash and it was all pre-prepared so the food was ready as soon as I paid. I just had time to find a table and a couple of chairs before the rest of the family appeared. It was busy but all well organised so that it didn't feel chaotic. Also, they take card which is a relief as I only had enough cash on me to buy the tealights for those cellophane lanterns.
Obviously Eva whined a little about the onion gravy on her sausages but I scraped the sauce off and she soon yummed them up. By then it was 5:30 and we still had an hour and a half to kill before the fireworks started. Reuben wanted to go back to the play area, so we hung out in the cold while he tried to complete the assault course in the dark even though it was packed with other kids. It didn't go so well.
We needed to warm up so we went to have a look around the galleries, scene of Eva's disgrace last time.
I'm happy to say we made a clean getaway this time. Nothing more disgusting happened than the children learning about saltpetre and sulphur, both of which sound pretty disgusting.
There were lots of screens to interact with tho I was disappointed that the "stoking the cannons" exhibition didn't have any of the bags you stoke the cannons with (I'm aware this makes no sense unless you've seen it in action) but the kids didn't remember it from last time so they didn't mind. Eva liked pressing the button to make the mill work and they both enjoyed this photo opportunity: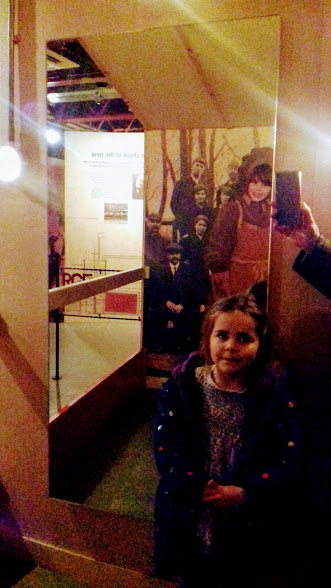 Even though Eva was a little too short to make it work:
We stopped by the armoury, although we're terribly lefty-liberal parents and didn't want Roo actually handling the firearms. He totally wanted to though. Like I said, he's at that kinda age where explosions are cool.
All of which brings us to the fireworks themselves. They started with archers shooting flaming arrows at a Guy, which then exploded and burned for the next ten minutes or so. Then a huge boom and then wheeeeee, bang, fireworks all set to a soundtrack of classic rock ("Bat out of Hell", "Eye of the Tiger")
As you can probably predict, Reuben loved it and was shouting "more big ones!". Equally predictably, Eva was cowering behind my leg for the whole thing. I think she liked them but it seems that she's still a little bit young and/or wussy for proper firework displays.
The only point of the day that was a bit iffy was leaving. There were signs up, asking drivers not to all leave at the same time but realistically, who is going to hang around in the cold to let everyone else go first? We were blocked in and facing the wrong way so pretty much just had to wait it out…for half an hour but having the stereo on all that time has had a ropey effect on our battery (we made it home, but only just). So if you find yourself stuck in the carpark for longer than it takes to drive home probably don't follow the advice to stick your favourite song on.
That was the only downside of the Royal Gunpowder Mills experience. It really is a fabulous day for learning all about fireworks – the history and the science – and then experience them first hand with plenty of firepower.  They're doing it all again tomorrow and the tickets aren't too pricey (£32ish for a family I think) and I would definitely recommend it. More information and tickets here.