This is the 300th post on London With a Toddler. Can you Adam it? To celebrate, we decided to roam East London in search of not dodgy cockney rhyming slang, as demonstrated in the last sentence, but paddling pools, pigs and Plaistow. Which is just as well, because we've been East Londoners for weeks now and haven't heard so much of a hint of cockney rhyming slang. Maybe we're just too close to Essex – I did hear someone in Tesco talking about Chas n Dave the other day…
But I'm digressing already, and there will be plenty of digessions later on. To celebrate, we decided to travel the length of the 300 route, stopping along the way to see what we could find. We mainly found three things:
1) The 300 is a slow bus
2) The 300 is a very irregular bus
3) The 300 is not the most efficient way to get from East Ham to Canning Town.
The bus journey was partly inspired by classic London mag "Smoke", who used the early 2000s to ride a selection of different buses of the week – the more rambling and obscure the better. Given that "rambling" and "obscure" are adjectives often applied to this blog, it seemed only appropriate to find our own slow and overly complex bus. The 300 delivered.
But let's start a the start which, for us, was Barking. I was keen for us to drive to the start line, as that involved a quick nip round the north circular instead of a complicated TfL tussle. But parking in East Ham seemed expensive and hard to come by…I suspect due to the presence of a large football stadium that confusingly seems to be closer to East Ham than West. So the decision was taken to use the cheaper parking in Barking and then hop on the tube. As it turned out, we parked not just for cheap but for free, as we missed the car park we were aiming for and instead found this spooky deserted retail park:
If you too want to park there, it's called Abbey Retail Park and seems free from restrictions….but also free from most kinds of retail. Very odd. I'll save you the suspense and let you know that our car was still there at the end of the day. We wandered round Barking a bit more than we meant to (darn misleading signs), then wandered round the station more than we meant to (darn misleading signs) and finally got to East Ham, where we found a sign that was reassuringly unmisleading:
I hope the drivers enjoy their tea. Anyway, onto the start of the 300 route and this meant the first park of the day – Plashet Park.
It had slides, swings, toilets that smelt as if something had died and a lot of fun climbable things.  Nathan particularly enjoyed the exercise thingy, although he wouldn't go much further than 45 degrees from the middle point. Spoilsport!
The sand pit looked a little sorry for itself:
It also had a somewhat unenthusiastic bit of water play:
Still, the kids were pretty enthusiastic about getting wet. I was hoping to keep them dry till at least lunchtime, so I steered them away repeatedly. But some other kids just dived in, and that somehow awoke the rest of the wet play area, which spurted out random jets of water for the soaking of random children. It was almost time to get on the bus, but first Eva and Nathan had a little "Titanic" moment:
And Reuben wanted to try it out too, with slightly less success:
They weren't keen to leave, but we had a lot of places to visit and there would be a lot of park-leaving along the way. Interestingly, Plashet Park is on the boundary of E6 and E7…it's interesting for me, anyway. I think I've collected nearly all the E-postcodes this weekend. So, goodbye to Plashet Park and onto the bus stop.
At this point, to avoid disappointment I should make one thing clear. Nathan point-blank refused to don a pair of tiny leather pants and a red cape for the occasion, so we had to limit ourselves to bellowing "This is East Ham!" instead. And gosh, what a lot of East Ham we saw. The 300 wended its very slow way round the residential streets of the area, past the East Ham Market Hall ("bags of shopping under one roof") and Newham Town Hall: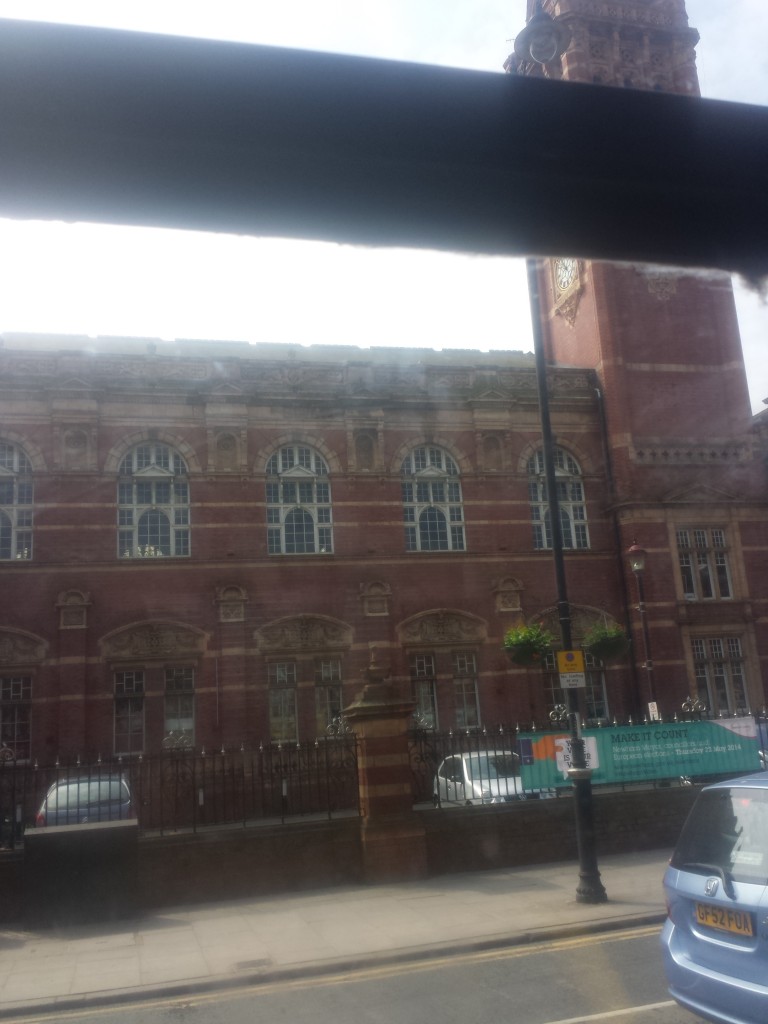 And a loooot of other bits of East Ham. We went round in circles, squares and triangles and probably rectangles and squares too. I've never been so glad to see the A13 and with it the promise of Beckton. That's something I never thought I'd say. But it was lovely to see Beckton Asda again – home of affordable and bountiful school uniform – and the intriguing Beckton Alps, which I've heard are actually mounds of toxic sludge so we didn't stop there. Next stop – Newham City Farm!
Now, you'd imagine that all city farms are created equal but no – this is not on the same scale as Vauxhall City Farm at all. You could fit Vauxhall into one paddock of Newham. It was expansive, green and lovely. It's free to get in, but donations are encouraged and I completely neglected to donate. I'm sorry. Have some free advertising instead. There was a small under 8s play area and big open areas for the sheep and horses:
Then there was a duck filled river that Eva enjoyed looking at (she's a big fan of ducks, especially ones that are sketchily animated)
And a chicken that Reuben named the "dino-chicken" because it looked like a dinosaur:
And, of course, a pig's bottom:
Which Reuben found hilarious, obviously. He also liked stroking the donkey, seeing the rabbits and….scaring the peacocks. I'm not proud of the last bit. I said something foolish about how you make peacocks show their feathers. We moved on rapidly.
We moved on to lunch. It was ridiculously hot, just like it always seems to be when we do these crazy anniversary missions, and I was flagging. We followed the signs to the farm cafe, which took us right out of the farm and into King George V Park.
The cafe turned out to be a little hatch, which could sell us sausage and chips for £2.50 each if we waited 10 minutes. So, we took that option and the kids went for a play:
There was a fort-like mound in the middle, which turned out to have a path winding up it, leading to a slide:
And the world's noisiest roundabout, which turned with the sound of screeching ball bearings:
I went back to collect our food but it still wasn't ready. I was getting tetchy. More playing. An "animal adventure" for Roo in the trenches of the park and some precarious climbing of the fort from Eva.
And then – food! I'd been hungry since we got off the bus, but Maria tells me 11:15 is not lunch time, so we'd held off till a respectable 12:15 instead. The sausages and chips didn't last long:
(Except Eva's, obviously. Toddlers can make a meal last for hours. But even she ate it all in the end)
At this point we were faced with a dilemma. We'd gone so far through the farm that we were halfway to Prince Regent Lane, where we could pick up the route again. Walking down one road would get us back on the route, but with a chunk skipped out. Could we live with that? Yeah, we could. Sorry to the dockside bit with the DLR stations on it – we were getting back on that bus and going straight to Plaistow Park:
In the few short minutes between lunch and arriving at the park, the sun had gone in and the temperature had dropped considerably. Pity, as this was where we had some water play and ice cream scheduled. Still, we never let small climate fluctuations get in the way of a good plan…
For a long time Reuben was the only one in the pool but slowly, the Plaistow natives joined in. I'm not entirely sure they knew what to do with a paddling pool. One girl went in fully clothed, which is pretty standard stuff, and she and Roo threw sticks for each other and played fetch. But then another boy – who was well old enough to know better – tried to go in with his shoes on.  Two other boys just dumped bucketfuls of sand in there. And someone else spat their chewing gum in. Then someone jumped in with a football, and that gave his mate a great idea – why not ride a bike around the perimeter? Imagine our hilarity then, when the bike rider stopped his aquatic antics to shout "My shoes are soaking wet!"
Well yes, you were riding a bike around a paddling pool. How could wet shoes possibly surprise you?
I try not to mock children, but I was almost wetting myself laughing at him, especially as he just kept shouting "my shoes are wet!" He eventually went home to dry his shoes, and Reuben went to the sand pit. Eva had been sleeping straight through all of this, but I nipped to Tesco to get a 4 pack of Cornettos and the very mention of ice-cream was enough to wake her up:
Awww, sleepy ice cream face! She and Roo played together in the sand for a while before we had to move on again. There were more tears and arguments…but the end was near and we needed to press on.
Back on the 300 then! Or not. We narrowly missed the bus and the sign said it would be a full 16  minutes before the next one. We were around a mile and half from Canning Town by this point, but tired and footsore and not up for a lot of walking. On the flip side, waiting at the bus stop would involve listening to a woman rant into her phone for 16 minutes…so we walked. At least until the bus caught up with us. Just for Maria, here's a Ukranian restaurant we saw along the way:
We were mere metres away from Canning Town by the time the bus caught up but it somehow felt right to end the journey on the 300 itself. Besides, there was an awkward-looking dual carriageway between us and the station. So we boarded it for the last time:
And there we were – Canning Town, almost exactly 300 minutes since we had left East Ham (you have no idea how happy that made me). But our day wasn't quite over – there was one more thing to do while we were in the area. It meant ducking into the tube at Canning Town and going one stop south to North Greenwich.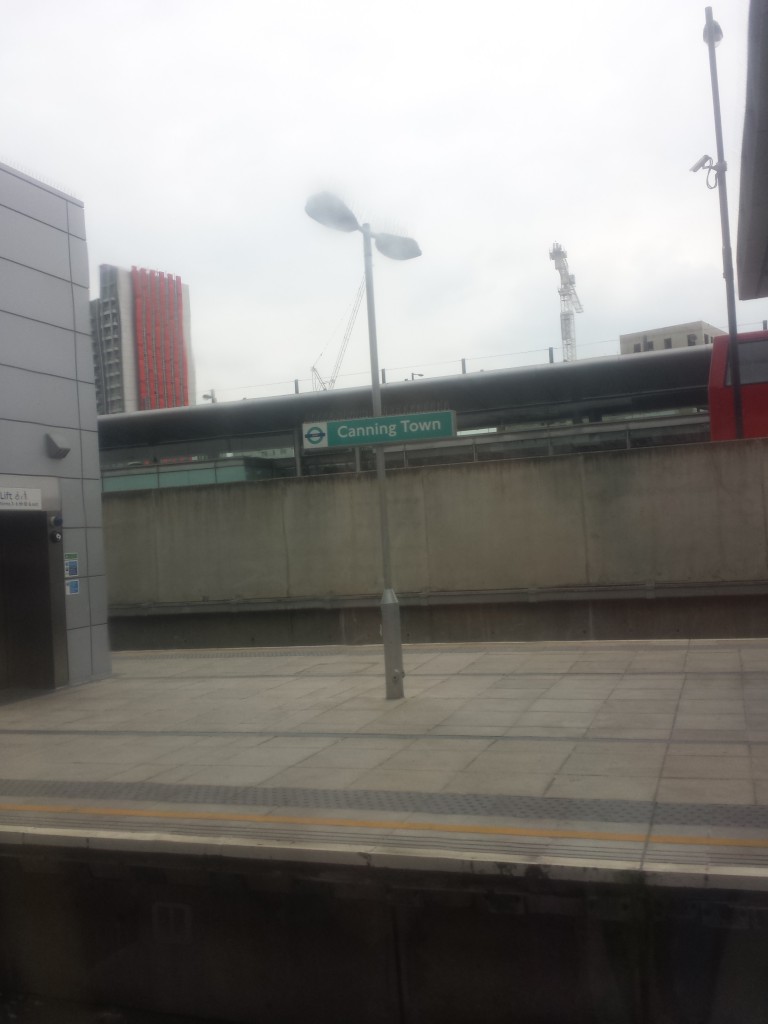 I like to celebrate anniversaries in style, and nothing is more stylish than some white knuckles and a cold sweat. You might remember I'm a bit scared of heights so you can imagine what a treat it was to try out the new cable car back across the river. Somewhere across town, half a stadium full of people were wearing shirts that proclaimed "Fly Emirates" and we were about to do just that.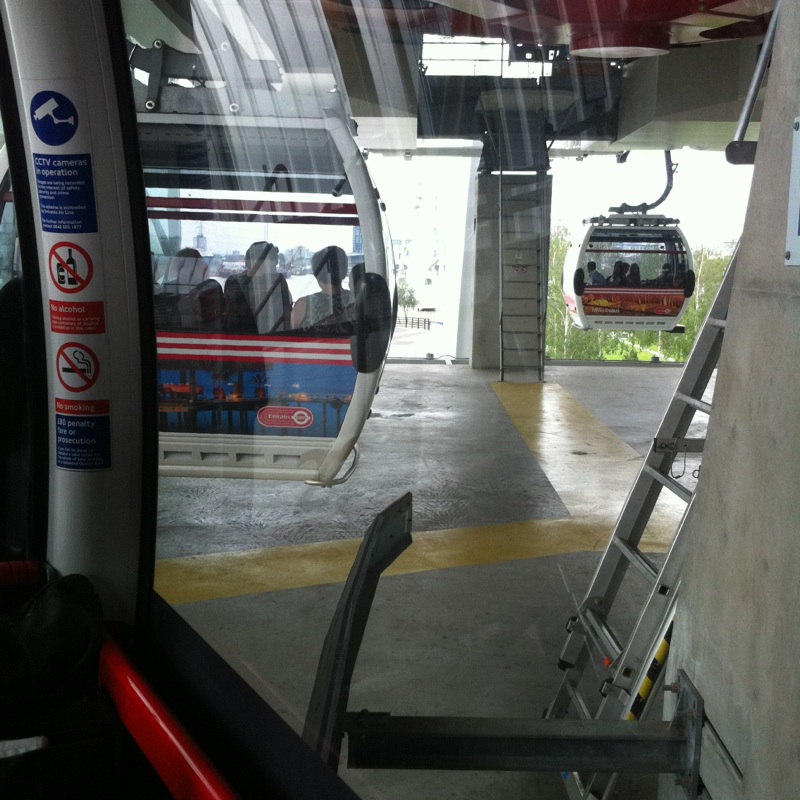 There was a brief moment of panic as our car stopped just before take off but  apparently it was quite standard procedure to let someone on. At least we weren't one of the cars stopped several hundred feet over the river. We eventually got going again, and a video screen of waving South Londoners bid us goodbye in a hopefully non-final kind of a way. Across the river, North London would be waiting to greet us (Eerie life symbolism alert!), although calling Docklands North London is a bit of a stretch of the imagination. First though, there was the climb:
Pure terror. Notice how there are no photos of my face because if there were, it would be like a Munch painting. But I relaxed a little and took in the slightly skewed version of London that was laid out before us. Basically, everything was off to the west, and most of the scenery below us was industrial wasteland but we could make out Elephant & Castle, the City and the Olympic Park. In the other direction was the Thames Barrier, which I'd never seen before, and the stretches of the Thames that go out towards the sea. A good view, but terrifying, obviously.
We came down to land next to the Excel and decided today was not the day to check out The Crystal, a new museum right next to the terminal. It looked interesting but we were unspeakably tired and still had one DLR and a tube to get back to Barking. So, let's skip those, and the inevitable lost-wandering around Barking when both our phones had run out of battery and so we couldn't access Google maps. Let's just end with the historical Barking Abbey:
And a bee collecting pollen, next to the car:
Nature, history, transport, technology….I think you'll agree this post had a bit of everything. Probably too much of everything, so I'll stop there. Happy 300th anniversary, LWAT!