Hands in the air! It's our third trip to Big Fish Little Fish and this time it seems to have found a natural home in a warehouse in Hackney. Why such a good fit? Well the warehouse gave it that real illicit edge that made Nathan wonder if it was 2am rather than 2pm and whether we were, in fact, back in 1995. And as for Hackney – well, it's full of hipster Dads, who love to throw ironic shapes with their ironic toddlers while wearing retro hats (you're wondering whether it's the Dads or the toddlers wearing the hats, aren't you? I'll let you guess…) So, it's a great fit and I can't believe they haven't been there before.
It was a sweltering day, reminiscent of the first party in Brixton, but the bigger space made it a lot less sweaty than that day. There was a bit of outdoor space, for parking buggies and eating ice lollies from the Ice Kitchen (more on that later) but the main action was inside.  There was a dancefloor, of course, a craft table, a bar and two play areas – one for the crawlers and babes in arms, the other for the bigger kids. I'll confess now that Eva breached the baby area, but there weren't any babies in it at the time and she was very gentle. As gentle as a 2-year-old can be.
Reuben made a beeline for the dancefloor, where he treated us to his very special moves, before dashing off to have a look at everything else. That boy isn't often still. By the time i'd parked the buggy up and removed Eva and her giant "dancing dress", he'd already bagged a smoothie and had a boogie. Eva was taking things more slowly:
It's all a bit hazy, but here's what we did for the next two hours or so. There was hat-making:
Pirate tattoos:
A motion-capture skeleton that Roo liked to make shadow puppets in front of: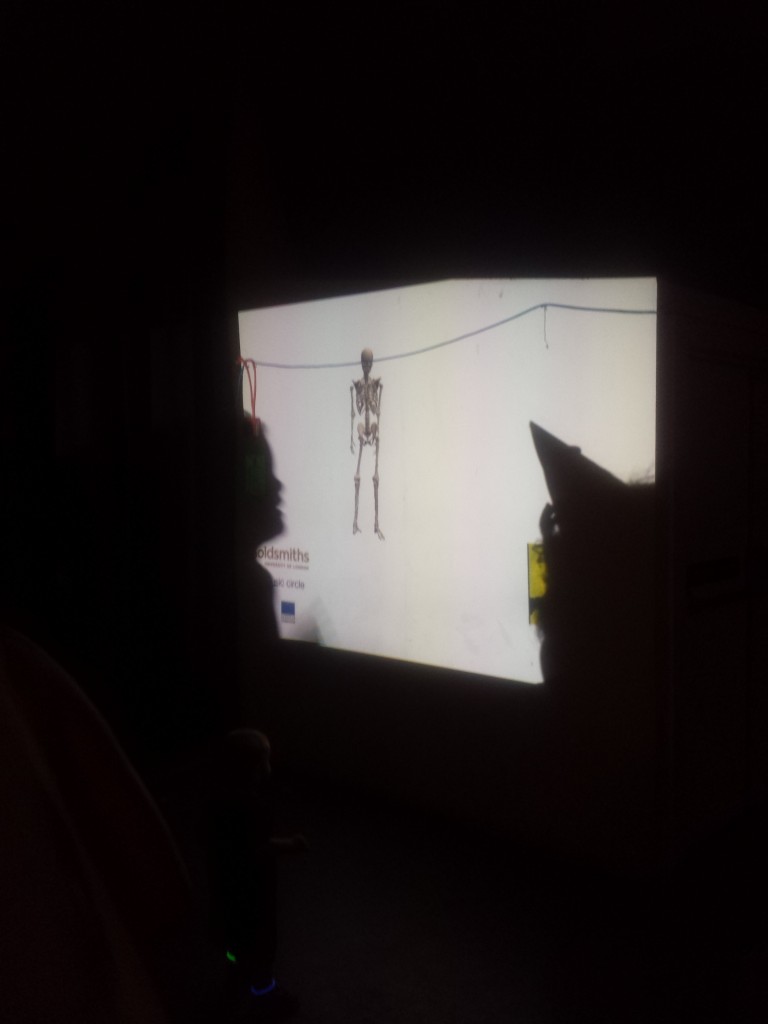 And some chilling out with ice lollies. They were really good – Nathan and I had the blueberry, yoghurt and honey ones and the kids had strawberry and cream ones. Eva took hers back onto the dancefloor because she eats so very slowly. I think we can say this is living the toddler dream:
Sadly, she hasn't quite mastered the ice lolly eating technique yet and only ate from one side, which caused catastrophic and inevitable collapse. Followed by catastrophic and inevitable toddler collapse. I was tempted to scoop the fallen lolly up and eat it anyway, but you'll be glad to know I thought better of it. Instead, I took it to the Lost Children's point:
And yes, I did use this as a threat to Roo – if you get lost, you'll end up in the bin. Sometimes him being able to read is so useful. Other times, not so much.
Eva got over the lolly loss pretty quickly with a Daddy-dance to The Prodigy and a play in the play tents. By 4, Roo was starting to get tired and we considered making our way home but rumours of a parachute dance perked him up again. Rightly so, because the parachute dance was super-fun. Roo stood on the stage, throwing balloons onto the canopy while helpfully tall people wafted them around for him. And me and Eva danced below:
There was also another reason to stay – Superstar DJ Tom Middleton had taken over the decks. Now, I'd enjoyed Felix Hot Chip's set (and Reuben liked the song about a monkey with a miniature cymbal) but Tom Middleton's was the undoubted highlight. It started with an "In the Night Garden" version of "My Name is.." that brought a smile of recognition to Eva's face (for the Iggle Piggle, not the Slim Shady. Probably) and was just non-stop danceability from then on in. "On a Ragga Tip", "The Clapping Song" and Buttoned Down Disco favourite "I Wish" by Skee-lo. Eva stood on the stage playing with a glow-band bracelet and twirling while I had a dance.
Reuben and Nathan meanwhile were colouring in the mural at the back and going crazy for "Everything is Awesome" (Reuben said "I know that song! It's my favourite!") A little "woo-hoo"ing to Song 2 later and it was time to go, sadly.
But before we do, I feel like I have to issue a stark warning. No matter how much you try and immerse your kids in the music of your youth, things can go wrong. Look what I found on the mural:

Grim stuff, kids. Mind you, a famous stalwart of the 90s indie scene recently admitting to being a bit partial to 1D so it seems like their influence is seeping in everywhere…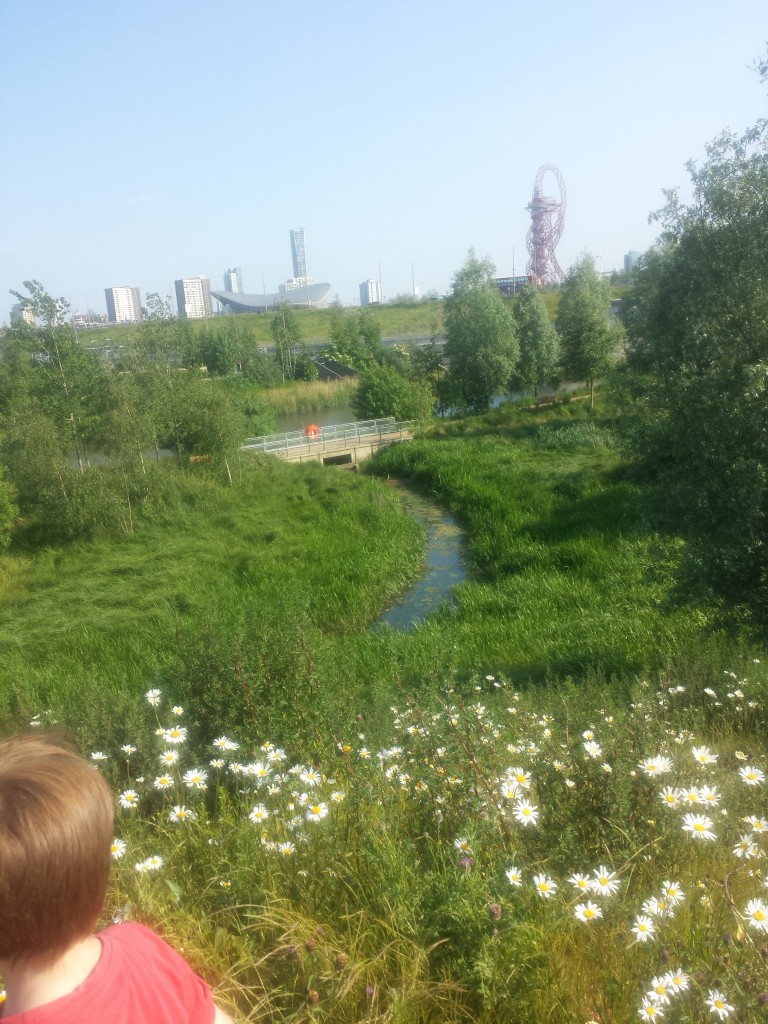 After such excitement, it was time for a bit of water play to cool down. It might have been 5PM but it was still blazing hot and we were right next to the Queen Elizabeth Olympic Park so why not go for a play? Well, maybe because it would result in a super-late bedtime and the kids were already tired? Pah, I scorn your logic. When it comes to choosing between the sensible thing and the fun thing, I do try and choose the sensible thing…but it doesn't come naturally on a glorious summer's evening when an awesome park lies just across the way. So, teatime water play it was. And it was totally worth it:
Yes, we took her giant dancing dress off before unleashing her on the sand 'n'water. See, I can do sensible.
Oh, and as an added bonus we found some lovely "wowers" on the way, and took some photos of Eva with them which I'm now going to gratuitously shoehorn in because she is just so darn cute:
As Echo and the Bunnymen once said, nothing last forever and 6PM was definitely getting on time to find a random bus and get out of Stratford. We walked to the nearest stop, past eerily empty and half-finished apartments that featured yet more play areas:
You can't really see it because I was ushering Reuben past pretty quickly by that point. They also seemed to have the giant grass neighbours from the Southbank Festival of Neighbourhood last year.
The getting home bit could have been smoother – the 97 to Chingford sailed by without stopping – but we'll gloss over that and end in the sunshine of the shiny new Celebration Avenue. Hands continue to be in the air…