I realise that my last post about our Salzburg  trip launched straight into my epic Sound of Music fangirling without explaining quite how obsessive I am. Long-term readers will be familiar with my love of the Sound of Music but there are other reasons to visit Salzburg – the beautiful mountainous scenery, the architecture and, of course, all the Mozart sights. It's just that, for me, the town is inextricably linked with SoM as are the surrounding mountains. So that might explain why we spent Sunday morning walking around in circles.
First off though, we had breakfast at our hotel. I'm normally a bit tight-fisted when it comes to hotel breakfasts but it's much more affordable with two people than it is for four and when we woke up at 9, the idea of stumbling a few metres and having coffee on tap was very appealing. The pickled herrings and onions were less appealing – I like to sample the local cuisine but it was a bit early even for me to start on the pickles. Watched over by the portrait of a Salzburgian David Cameron doppelganger, we fuelled up on coffee and pastries and I outlined my plan for the morning – "just quickly before we go up in the cliff lift".
Basically, I'd had a lot of confusion over bits of the Do Re Mi montage. I'd read something on Trip Advisor that made my brain think that the scene with the Fiaker (horse and cart) took place outside the Museum of Modern Art. When I realised that the museum was on top of the cliff, I spent a long time wondering how they'd got the horse up there. Late on Saturday night, it had become apparent that the bit outside the museum was the bit I'd thought took place on the bridge – the first time Maria teaches them the "when you know the notes to sing" part of the song. So the horse and cart must be somewhere around the Old Town. It would take us mere minutes to pin it down.
Or walk round and round every single street looking for a grey building that fitted this screenshot:
And experiencing a shedload of disappointment. But whenever God closes a door, somewhere he opens a window, right?
So we gave up. Went to the Billa supermarket to get a packed lunch and actually get on with the main plan of the day – to go up the MönchsbergAufzug and walk round the top of the Mönchsberg to Nonnberg Abbey. We weren't exactly climbing a mountain but it felt a bit like we were. The lift was a few Euros each and we chose the "there and back again" option even though that would involve walking all the way to Nonnberg and back.
It was slightly disconcerting to get into the lift and hear "Space Oddity" playing – were we about to visit der Mond rather than der Mönchsberg? It turned out to be gaslighting us because for all the lift noises and Bowie countdown we actually didn't move at all. The doors opened and we were still at ground level. Apparently we had to press a button once we were in the lift, something I'm not used to because the work lifts don't have those kind of buttons. The second attempt was far more successful and we emerged to the kind of glorious Salzburg-view that you would normally find with curly golden writing over it:
And yes, it was the setting for that Do Re Mi segment and no, not the bit with the horses:
(Number 28 on the map if you're still following these)
There was an exhibition on the moon landings at the museum, which explained the Bowie in the lifts. There were also a couple of modern art pieces outside, including Sky Space – an installation by artist James Turrell, which consisted of a hole in a roof over a tower. I don't really get modern art…I think I've made that clear already.
I also don't normally get the appeal of walking around in the countryside but it was a beautiful day and there were gorgeous views along the way. Everywhere you looked, there were mountains and castles and sunshine. Glorious:
After a bit of a steep climb, we stopped at the Bürgerwehr viewing point to have a breather and take in yet more cinematic views:
This mountain climbing thing wasn't as hard as I'd thought…the lift definitely helped. And also it wasn't a mountain. But still, we could definitely see some mountains from here.
Worryingly, the path started to dip down while we still a long way from Nonnberg. We could see it on the horizon so knew we would have to climb back up. Before we did that though, we had a chance to get a picture of us together thanks to a nice Syrian:
At this point, we could have visited the fortress, which would have involved a realllly steep climb but we had SoM sights to find and couldn't afford to be distracted. So we pressed on to Nonnberg and it was totally worth it: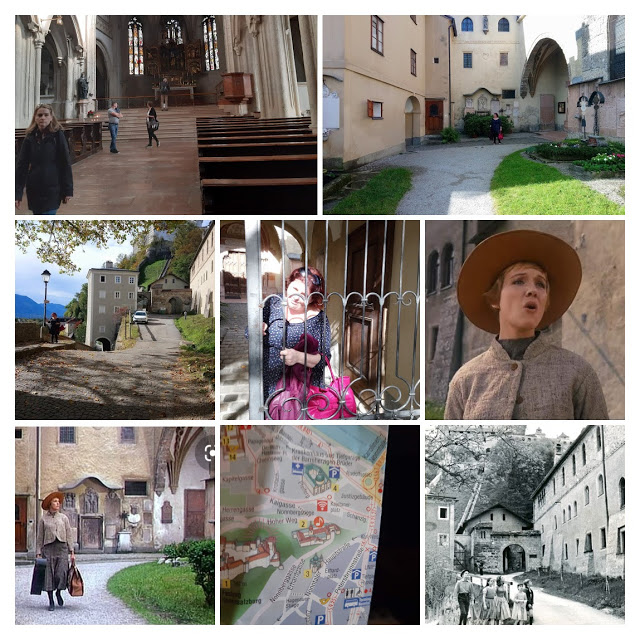 There's the gate that Sister Berthe very slowly unlocks for the Nazis before sabotaging their cars and the same gate is used by the Von Trapp children when they come to look for Maria. There's the church interior seen right at the start of the film and the garden that Maria walks through at the start of "I Have Confidence". It's been pointed out elsewhere that this shot does not reflect the view from Nonnberg:
I totally agree – Nonnberg isn't in front of the Dom. But the same post suggested it was in the same location as the Do Re Mi bit outside the museum, which I disagree with. This shot seems roof level and the cliff lift goes way higher than that. I am kicking myself for not getting the exact location but I happened to take this shot of Nathan later on in the day, which almost matches:
And I think that was around the top of the Clemens-Holzmeister-Stiege, which are around 800m from Nonnberg and am impressive distance to travel between the lines "My heart should be wildly rejoicing" and "Oh, what's the matter with me?". Still, it's even more impressive when, thirty seconds later, she seemingly abseils down the cliff face between the words "Oh I" and "must stop these doubts" because she's walking through the arches at Residenzplatz by that point. And she's not even out of breath. What a lady!!
While we were at Nonnberg, I had a small inspiration about that whole horse and cart thing and checked the Trip Advisor thread again – the one that had confused me earlier. Turns out that further down the thread someone had given the exact address for that sequence – Nonntaler Hauptstrasse, numbers 12-20. It was only a few minutes away from where we were, so we scurried down these steps:
And behold! A greyish building that could just be *the one*:
It was! John L on Trip Advisor had been absolutely right and all the signs were there – the funny shaped arch, the formal steps and this grey building. We were so happy that we sat down to have a sandwich right there and then. Or at least Nathan did. I was still full from breakfast:
(It's where I've marked the little musical notes on the map)
Our next target was the Rock Riding School, backdrop for the Salzburg Folk Festival scenes towards the end. They have guided tours every day at 2 so we had an hour to get back to the Altstadt and and buy our tickets. Google Maps said it was 18 minutes. How hard could this be?
Google Maps didn't mention that it involved climbing back over the Mönchsberg so the answer was "pretty darn hard". It was a long way up and the little steps cut into the slope didn't do much to relieve the gradient. If we'd taken the less scenic route via the roads, we would have scooped an extra location as well – the market where Gretl drops a tomato. Bah and grumble. It also seemed that Google had no real plan for how to get us down again because a dotted line to our final destination siggested a Maria-style abseil into the riding school. We weren't up for that, so backtracked and took the aforementioned Clemens-Holzmeister-Stiege, which Nathan thinks are like the Escher steps. Fortunately, they weren't and we managed to get down.
Tickets for the tour are described somewhat vaguely on the website but essentially – go to Max-Reinhardt-Platz at 1:45 and there's a large building that takes up most of one side of the square. Look for a pillar with a large mask-like sculpture on it and the gates next to it will open when it's time for ticket sales to start. We got there a few minutes early so had to go and use the loos (luckily I had a 50 Cent piece from an earlier trip) and then wait for the exact time. This is where the ticket office is:
It's a 50 minute tour in German and English and it takes in not just the Felsenreitschule (riding school) but also the Haus für Mozart and the largest venue – the Großes Festspielhaus. It was a really interesting tour and we got to see the backstage area for the Großes Festspielhaus, which was massive and impressive. The acoustics in the auditorium are said to be amazing so the guide asked if anyone would step forward and sing in order to demonstrate. You don't need to know what happened next, dear reader.
The Felsenreitschule doesn't have such good acoustics because it's carved out of the cliff face but it is an incredible space and obviously the most significant to us because we were racking up those SoM points (number 24 on the map)
But definitely worth paying attention on the rest of the tour as there are some great frescoes to look at and lots of good facts about the building. We even felt like we'd finally paid poor Wolfgang a bit of attention.
Afterwards, we sat down for a snack by these giant gherkins. We didn't snack on the gherkins – I had a sandwich and Nathan had some milka biscuits  – so it really felt like I was consciously rejecting pickles all day. Most un-Katelike.
However, the gherkins were made of metal (more modern art) and I think the moment in the Festival Hall had been as much Kate as Salzburg could possibly handle anyway.
Suitably revitalised, we decided to make one more sightseeing push. So far, we hadn't scored any aspect of the Von Trapp house – I knew that the patio belonged to Schloss Leopoldskron and was out of bounds to the general public. I didn't feel much like getting the bus all the way out there just to squint at it across a lake. But Schloss Frohnburg seemed much more promising – it was the front of the house and only ten minutes away on the bus. We had  to get 24 hour tickets to get us back to the airport on Monday morning, so it made perfect sense to start them on Sunday afternoon and go and see if we could score one more sight.
And we did. The O-8 took us as far as the main road (stop: Poliziedirektion) and then it was an easy walk down the helpfully-named Frohnburgweg. You come out at the back of the house, which looks almost right (yellow house, big gates) but not quite. It isn't until you go round past the goats that you find the front gates and drive, plus the road that Maria skips down at the end of "I Have Confidence" (No really, she covers a heck of a lot of ground in that song):
It almost completed the set of locations for that song, except I never bothered to find out where the shot of her crossing the square to get to the bus took place. Darny darn darn. Anyone know?
It's fair to say that we were both a bit tired by this point. We went back to the hotel and although I attempted to go to church twice that evening, neither was successful and all we actually did was go for a pizza at O Poppo, which was very nice and not too pricey.
There were loads of interesting things we found around the city that I've kind of skimmed over in my rush to tell you about obscure SoM locations. So let's whizz through them now:
Eva's ideal dress – half sequins, half candy canes:
Signs that looked like pictures of Nathan and Eva walking together (man in hat, girl arsing about):
The world's poshest McDonalds (move over Winchester):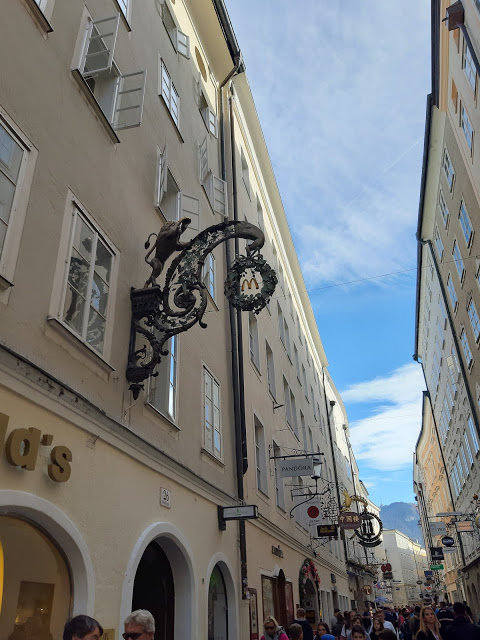 Horse motifs everywhere and the occasional unicorn goat:
The very glittersome "Christmas in Salzburg" shop:
A padlock bridge:
Loads of Austrian traditional dress that I reckon Nathan would look pretty cool in (this is the women's jacket but you get the idea):
Heart-shaped bushes:
And a strong push to differentiate Austria from similar-sounding countries:
As we sat at the O-10 bus stop this morning waiting to go back to the airport, Salzburg gave us one last parting gift – a beautiful sunrise by the Horse Pond. I really did hate to go and leave this pretty sight:
Auf Wiedersehen Salzburg!