Yknow, often Twitter feels unrewarding. Like shouting into a big room full of other people who are also shouting. Sometimes you get into massive fights with Radio X DJs and all their followers. And then sometimes, just sometimes, you get a retweet from the guy who did Zippy on Rainbow and ALL is right with the world. I don't quite know if there's a connection between Ronnie Le Drew and Big Up – the show we saw today – or whether it was just puppeteer-to-puppeteer solidarity but blimey, it made my day.
Unlike Eva's mood when we got to Stratford this morning, which wouldn't make anyone's day. We found our way to Stratford Circus Arts Centre with only a few glitches – veer left round the Stratford Centre when coming out from the station – but she wasn't being the most so-operative of theatregoers. Still, a pain au chocolat from the cafe perked her up a little just in time to go in, leaving Nathan and Roo finishing their coffee and their drawing respectively. Big Up was aimed at 3-6s so Roo had opted to hang out with Nathan at the Lego Store instead of going to the show.  We'd swap the kids over later on, which is why we didn't just leave the boys at home…but that's another story.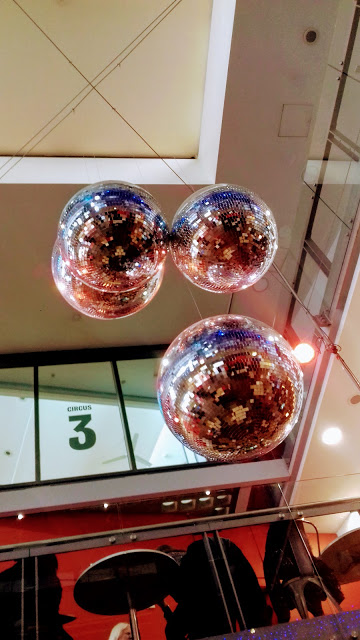 Eva insisted we sat right at the back, in the corner and then she couldn't see. That might give you an idea of the kind of contrary mood she was in. Plus the set – some closed flight cases – wasn't filling her with optimism. But as soon as the first performer came on and opened up a flight case to reveal a glowing set of DJ decks, she was entranced.
Big Up is light on plot and largely wordless but it's about sounds, lights, movement and the interplay between the performers and puppets. The puppets only appeared about halfway through, so it was mainly carried by the human performers but let's not get ahead of ourselves. It started with one man – the beatboxer, DJ and sound effects guy who I believe is known as Hobbit. He set the scene for the show by laying down some beats and was soon joined by the angel-voiced Dorcas Sebuyange, who opened up another box and sang as the room filled with multi-coloured lights….the first of many "Wow" moments in the show. Another box wheeled on by the seeming-roadie Clarke Joseph-Edwards contained something of a surprise package…the fourth performer, Iestyn Evans, the acrobat and puppeteer.
With the cast all assembled, the story unfolded. Each box that was opened added something new to the story and I was a little sad that Nathan wasn't watching, because a lot of the show revolved around setting up PA equipment and that's how he likes to spend his Sunday mornings. Plus the occasional Sunday afternoon, untangling those great bundles of jack leads that here provided something of a plot device but to your average AV techie are just a pain in the jackside. Of course, I'm just a musician at church, so my input is similar to Dorcas' here – to point at the microphone when it isn't working and to look annoyed until they bring me a new one or a new lead. If only my new mics were delivered by illuminated puppet-man as they were here tho! And also, if only I could sing like Dorcas can!
Eva was starting to get restless around the halfway point because – as discussed – she was just in that kind of chair-kicking mood. But she was delighted to see a baby introduced into the show, even if it was a baby robot puppet with a nappy made out of yet more jack leads. Eva does yuv a baby. There was a song that Reuben might well have appreciated about how babies do nothing but poo and cry and wee – one of the the few parts of the show where words were used rather than just sounds – and the baby magically grew before our eyes into first a toddler and then an adult in a long coat who joined the other adults and the audience for a final dance along. I think she figured out it was just Clarke in a robot head tho.
So at the end, we were all on our feet dancing and singing along and the girl who was reluctant to do anything was later heard to tell Reuben how much she yuvved it. It was a very clever show – perhaps aimed at a slightly younger child than my almost 7-year-old – but full of impressive beatboxing, deft physical comedy and real heart. At one point, that was a literal heart made out of foam blocks. Literal heart makes it sound like an internal organ but you know what I mean. A heart shape. One of Eva's favourite moments. I would have liked to have heard slightly more of the singing but that's because singing is more my thing than beatboxing…there is no deny Hobbit's talents when it comes to laying down those beats.  It was a captivating show, even for the smallest members of the audience and when it next comes to London I'd advise you to get tickets quickly before they sell out like they did this morning!
Disclaimer: I recieved press tickets in exchange for a review. All opinions remain honest and my own. For more information and tickets click here