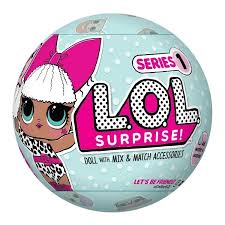 One of the many things we missed out on over February half term was the launch of a new surprise doll – the L.O.L Surprise. Luckily I hadn't told Eva we were ever meant to be going (it was planned as a sur… you get the idea) so she was thrilled when one just appeared in the post for her. I've already overused *that* word but let's just say it was unexpected.
So we decided to go Full Disney Collector and film her as she unwrapped it. It's an amateurish attempt at a vlog – my phone memory ran out before we'd fully explored everything inside and also, my voice is annoying. I apologise. But here it is:

Ignore the fact I keep calling it an egg. It's a ball, not an egg.  And you unpeel the layers using a cute little zip marker. Essentially, it's seven layers of surprises – the first is a coded message, the second is a sticker telling you what to do with your doll (bathe it or feed it and it'll do something unexpected). Next is a bottle, which I seem to remember is embedded in a secret compartment in the plastic ball. Then there are outfits and accessories and eventually you get the doll, along with some instructions on what to do with the plastic ball (it can be a handbag or a hangout or a bath) and a chart telling you whether you have a popular or rare doll. We got two baby dolls and they were both super-rare! Go us!
Eva enjoyed unwrapping it and immediately wanted to take it all up to the bath so she could bathe the babies and see what they did – the sticker promised they would either cry, spit, pee or change colour. I think we got the last of those, which is the best option I think. I'm sure she'll want to collect them all now. If you have a child who's similarly interested in surprises and dolls, have a look here for all the L.O.L. Surprise info you need.
Disclaimer: I received a free L.O.L. Surprise Doll in exchange for a review. All opinions remain honest and my own.