London is a city of contrasts and it's fair to say that Eva and I experienced two extremes today – a swanky Soho premiere in the morning and a romp around Epping Forest in the afternoon. Not that she wanted to leave the house at all. No, no. She had a green -pen picture to finish. It's a miracle that I made it to our first appointment, and even more of a miracle that she was there with me. We hadn't had the best start. Still, by the time we were on the tube she was all sweetness and light, and we got to Shaftesbury Avenue in time for the premiere of the Kate & Mim-Mim special – "Kate in Oz".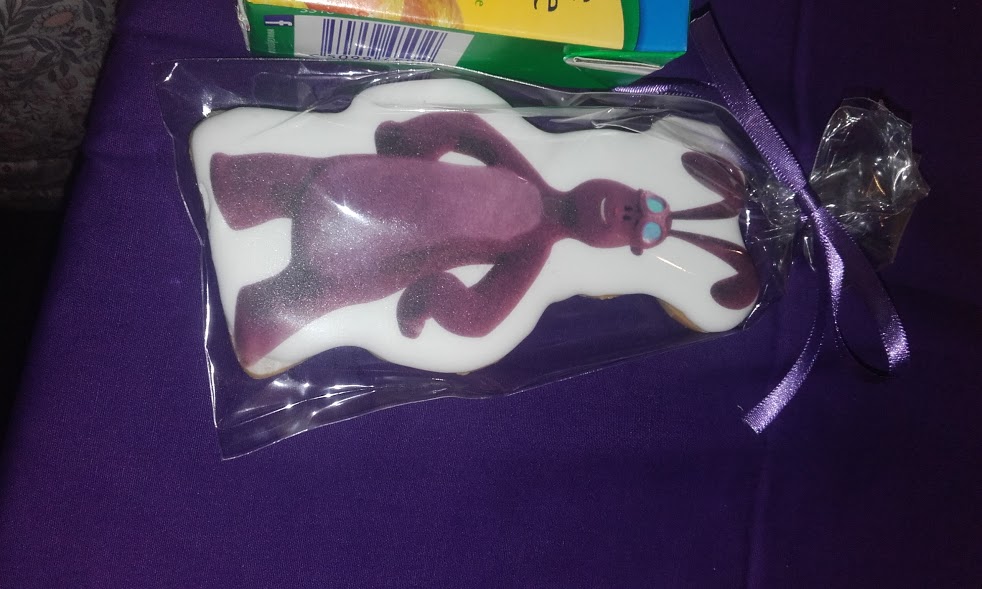 Now, I hate to do the hipster "I was here first" thing but when it comes to Kate & Mim-Mim, we were early adopters. We reviewed it back in 2014, just before it launched on CBeebies. And today, I got to chat to Kay Benbow  – the controller of CBeebies – about what's happened with the series since then. Turns out, it's been a big hit and that's led to the creation of a one-off special, based on "The Wizard of Oz". As Kay said, it's a show with a strong female lead which is something lacking in the kids' TV world. It's also about friendship, which is important and reassuring to young kids. Plus, it's brightly coloured and fast paced and everything that chidlren loved.
We chatted about a few other things too, which I hope are On the Record. She gave me some advice on transitioning from Beebies to CBBC, something that I've so far been too scared to do. There are a few transitional kinda shows, like "Arthur" and "Operation Ouch", which are aimed at the 7-10 end of the CBBC market and there's a new show starting, called "Roy" which will be shown on both channels…so that might be a good one to help Roo transition. Sob. I can't believe he's coming to the end of his Beebies era.
But for now there's plenty that he still likes on there. Kay and I discussed our mutual love for "Go-Jetters",which apparently has also been a massive success and there's new episodes coming. My kids are both hooked on it and want all the toys for Christmas. I have the theme song stuck in my head all the time…and it's educational too.
At this point, Eva disappeared, having been playing with a large balloon moments earlier. Everyone was starting to go in to the screening, so in a slightly surreal twist the controller of CBeebies and I both had a search around for my child before the special episode started.
The episode was introduced by CatBeebies, who did some rabbity warm-up games before interviewing Kay and Tessa Moore of Freemantle Media about the special episode. We'd later get a photo with Cat, although this might not be the best photo of either her or Eva:
I was really pleased to add another CBeebies presenter to my collection though. Did I mention that Eva also got a hug from the giant purple rabbit himself? When asked later who'd she met, she fittingly quipped "Cat and Mim-Mim". Genius.
And so to the episode itself. If I haven't mentioned this before, I need to point out that Eva is incredibly easily spooked. She screams her head off at the mildest of peril and films that she has run out of include "Snow White", "Secret Life of Pets" and "Angry Birds". So it was not a surprise that the Wicked-Witch-of-the-West character (Violet, voiced by Cat Deeley) threw her into a terrified panic. But it really isn't scary at all – Violet is very mildly evil, and her end game is to collect all the purple items in the land of Oz, not to hurt or kill anyone. And, of course, there's resolution and redemption at the end so I'm glad I made her sit through it. She calmed down and enjoyed it after some initial squealing.
The plot is a pretty simplified version of the Oz classic – Kate find herself not in Mimiloo but at the end of a Yellow Brick Road. From there, she meets her usual friends playing the Good Witch, the Scarecrow, the Tin Man and the Cowardly Lion. And yes, they all learn something about themselves along the way. It's nicely done, with some funny nods to the original, and the technicolour world of Kate and Mim-Mim really suits the bright colours of Oz (the slippers are purple…of course). And it is definitely, definitely not scary.
But you can judge for yourself! It's on CBeebies on Oct 29th, at 10:35. Something to look forward to at the end of half term. Funny Bunny Friend, it's time to come to life again….