It's been a varied weekend, musically speaking. Rock, hiphop, musical theatre, worship, AOR, experimental symphonies, mid-90s indie, Disney….I could go on. But instead I'll just focus on yesterday, which saw us rocking at lunchtime and hip-hopping by teatime. First though, we started the day by dropping a TV off in this incredibly posh road in Highgate: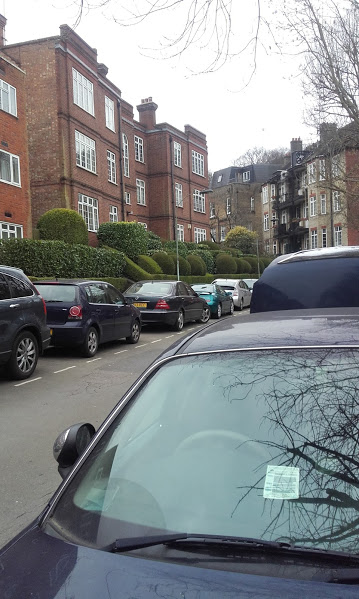 By which, I mean dropping a TV off to a friend in Highgate, not just going to fancy neighbourhoods and fly tipping. I only mention it because I am a relentless collector of New Areas of London and while I've been to Highgate many times before, there was a place nearby that I don't think I've visited ever before…or at least not since I was a child. Funnily enough, it came up in conversation the other day when I was discussing places that you cant really locate on a map because they don't have a tube station. Crouch End was one, Stoke Newington another and this place…Muswell Hill. That's one reason I was interested in driving through it – the other being that my mother was born there and it's interesting  to see a bit of family history. Also, it was in a Madness song.
And in some ways it looks like it hasn't changed in fifty years…
But there was no time to stop and explore. Why not? Because it was Rock o Clock.
As our pastor wisely observed, Nathan was ready for this. He was born ready. We were at Rock School at church, which was being led by some Brazilian friends of ours. I'm never going to sound cool writing about this but I was, as Juno would say, rocking out on the bass guitar. And by the end I did, as the Beatles would say, have blisters on my fingers.
But gone are the days when I could rock and roll all night and party every day…and it was time for a shift in musical direction. A hiphop direction.
It's funny how life works – a few weeks back we'd never been to The Place in Euston. Now we were going for the second time in ten days, after our night of contemporary dance. Bob had won free tickets to a show called "Bouncing Cats and Boom Boom Pups" but then flitted off to the New Forest, which meant that we got them. I knew very little about it but assured Roo that it was probably the kind of show he could join in with (he was very anxious to know whether he could).
On the way, we saw a building which both kids found very exciting:
It's Eva Air! The world's prettiest and sparkliest airline. Unfortunately they don't fly if the pilot has been dressed in the wrong ballgown or if you've cut her aeroplane food in the wrong way.
We were very early for the show so went for a drink in the cafe downstairs. It's pretty cheap and spacious so it's handy if you ever need a quick eat in Euston and don't want to pay station prices. We had juice and cookies:
But not for long as we were on our way to…Animaland.
As you can tell, it was pretty dark when we went into the performance space. Last time we went to The Place, I swear there were tiered seats filling up the whole room, but this time there was just a series of graffitied panels, in which we stood a little bemused, waiting for the hiphop magic to start.
Then our hosts, Maxwell Golden and Mr Dane appeared and kicked off things with a high energy freestyle jam about the random objects kids had in their pockets. Roo was holding aloft a used tissue, so I quickly rifled through my bag and found a Happy Meal freebie book for him to wave instead. Other kids were holding shoes and even one sock in the air, and Maxwell seamlessly wove them all into his rap. Then he taught us all to beatbox – "Bouncing Cat -sss, Boom Boom Pup tsh". It's good to acquire a new skill and I look forward to integrate some beatboxing into the next Rock School.
From there, the space shifted and changed so that we could move around Animaland and meet the aforementioned Bouncing Cats and Boom Boom Pups. I won't tell you too much more for fear of spoilers but it certainly was interactive. We were constantly moving, joining in, shouting and even having a full-on rave by the end. The graffiti panels set the scenes but changed every time we moved to another area. There were puppets, rap battles and some pretty bad puns. Reuben was exhausted by the end but full of bounce and happy. Eva had been carried around by her indulgent Daddy so she wasn't too tired…but still tired enough to neeeeed a chocolate bunny on the way home.
I'm not sure where the Boom Boom train is headed next as that was their last show at The Place but have a looky here for some more info.