Our trip out on Sunday was not just to Peckham but into a new era.  Yes, following the last day of Abellio Greater Anglia was, strangely enough, the first day of TfL. And we got to Highams Park to observe..nothing. No changes, apart from a snazzy new orange uniform on the staff. How disappointing. But by the time we got to St James Street, things really were on the up. No lifts had magically appeared overnight but these orange signs had:
Whoop! Hackney Downs had the same, Bethnal Green didn't and Liverpool Street seemed to have a newly designated "Overground" zone on platforms 1-4. Is this progress? We'll see…
Of course, the second part of the journey, from Shoreditch to Peckham was on a well-established Orange Line. That doesn't mean there are lifts at Peckham Rye though…in fact, there are a lot of steps. Luckily I knew about those already because we'd been there a few days back. Unluckily, Eva had forgotten how to walk, so we had to carry her buggy down with her in it, sedan-chair style. I'm not saying she's awkward…but she is.
First challenge on leaving the station was finding The Nines, where IndieTots is held. We only went wrong once before finding this promising-looking doorway:
And from there, we just followed the signs: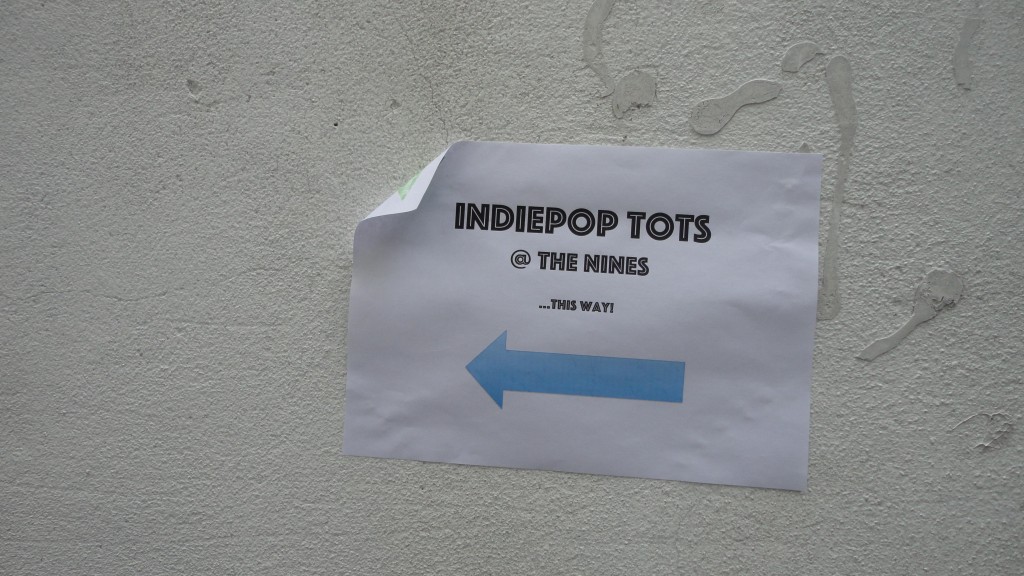 And the street art:
When we got in, the kids were drawn to the craft table straight away. The disco was in the back room, but first there were flags to be made. Eva's was especially blingy.
Once they'd finished their crafts, I persuaded Roo to come for a dance. He liked the inflatable guitars and microphones, although I think his approach was a little too "punkrock" for the gentle indie soundtrack. Here he is, recreating the "London Calling" cover:
He also enjoyed catching bubbles with his microphone and doing some crazy dance moves with NimbleBecky.
Eva was unsure about it all at first, and then her best friend in the world turned up. Suddenly, life was a lot better and they had a little boogie together to The Beatles and Squeeze.
I should probably tell you at this point that I got very little in the way of usable photos. The light was fairly dim and those children just keep moving, so most of the shots I took were a little like this:
Or this. More punkrock, I believe:
Roo's mad dancing takes a lot of energy, so it was good that there was pile of beanbags for him to rest on:
It was a tad surreal, dancing on a Sunday morning but it was fun. There was the café space in the front, for crafts, coffee and sausage rolls and we did spend a lot of time there, trying to get the kids to stop making things and come for a dance. So, I didn't get as much partying time as I would have liked but that's what happens when you involve children in any sort of plan. They scupper it. BunnyMummy said that last time there had been music piped to the craft area too so you could tell what was happening in the disco, even if your child was busy making two versions of Nick Fury:
It could also have done with being a touch longer, for those same reasons..but as it happened, I had a choir rehearsal to get to so it's probably just as well I didn't settle in too much.  Besides, Eva was hitting the wall. Towards the end, she lay down on the floor and refused to move in what we can only assume was a tribute to the "Just" video:
Time to haul her home. On the way back, I got to see those changes at St James Street in more detail. The fabulous TfL upgrades include this amazing integrated Oyster-reader and  departure board:
The outside stairs have also been blocked off, funnelling everyone through the ticket gates…a technique that is working oh-so-well at Walthamstow Central. And then there's the revised timetable:
I have high hopes for the TfL takeover but it seems to be having an issue or two, even a couple of days in. Watch this space for more updates…and in the meantime, book your tickets for the next Nimble event. It's Britpop themed! 28th June, 11-12:30. Get ready to dance round the room to the sound of your corduroy flares…