Sometimes change is for the best. You have to make your choices and move on. That's what I kept telling myself as I stared at a Nando's menu, willing myself to order something that wasn't a chicken pitta. We were in the Middlesex Street branch, a hop and a scoot away from Liverpool Street, and the staff had kindly opened up the downstairs area to accommodate the 15 people who turned up to celebrate Nathan's 35th birthday.  I knew that this Bucket & Spade List item was going to be a toughie ( 6. "Order something different at Nando's") but I hadn't realise quite how attached I was to my usual. I haven't even looked at a Nando's menu in years, so confident am I in my choices, but it was time for change. Was it going to be the Butterfly Burger, serendipitously placed in the "Try Something New" section? Or the Prego Steak Roll? Some Fino Sides instead of peri-peri chips
No, I went for the chicken wrap. That's new for me, OK? Even if it's not a massive departure from the chicken pitta. And it was nice enough – a hint of chilli jam in there – but it didn't have enough chicken and all the pineapple got pushed to the bottom so that you had it eat it on its own. I think I'll stick to the pitta in the future. Excuse the fuzziness of these photos, by the way – my phone camera has had some trauma of late and now makes everything look like it's in an early 80s music video. Which is cool in its own way.
On the way home we stopped by Plaza Park in Wood Street, which still has highly escapable toddler boltholes around the playground despite local parents complaining. I like the playground though, with its innovative seesaw and bouncy swings. Today, Eva found a new feature, which pleased her. The fountains were on! Perfect for a fully clothed girl in wellies…in her opinion, anyway:
"Oh no! Mine tights got soggy!" the toddler may well have said. I failed to be surprised. Meanwhile, Nathan was trying out this bench-futon:
And Eva found a place to relax too: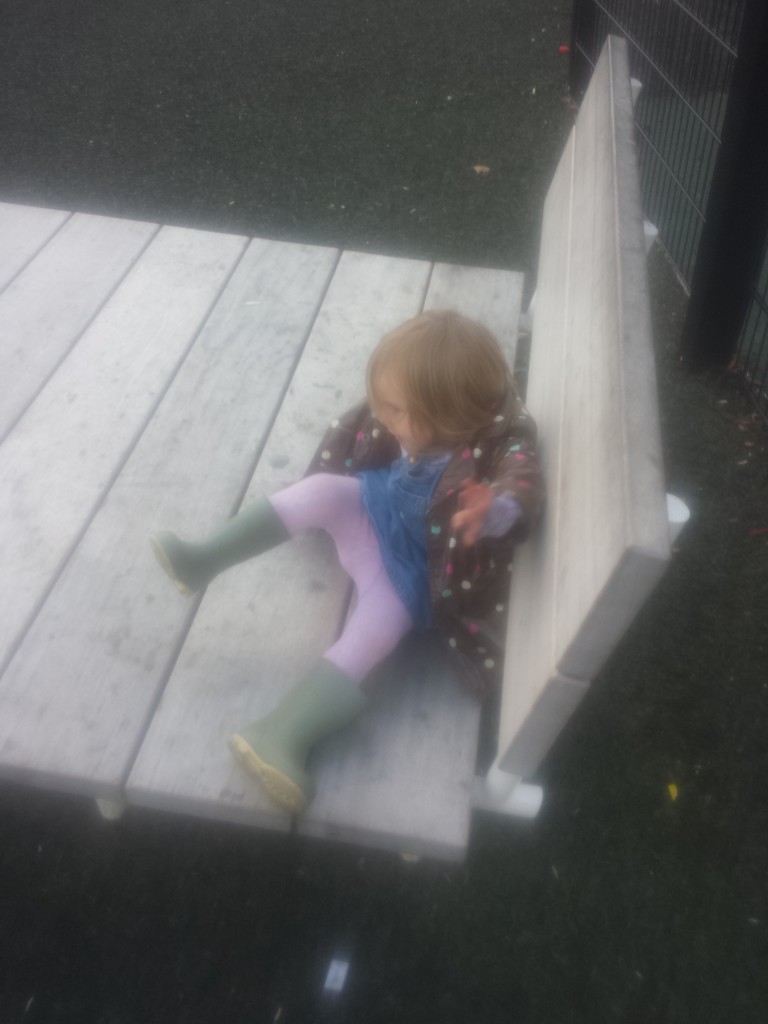 The subject of benches leads me smoothly onto the second part of this post, and that is our progress on item 9 – "Find some of those book benches" – which has been..minimal. To be fair, they aren't in the most obvious places – I've spent a lot of the summer in Soho and there are none there. But we bagged a couple in Bloomsbury Square:
This was at lunchtime on a weekday, so they both had office workers sitting on them and refusing to move so we didn't get great photos. We did discover a new playground in the corner of the square though:
It's a mystifyingly rural theme for a park just off High Holborn but never mind. I also recognise that cow from another Bucket trip – I think it was Clissold Park. Anyway, it all looks shiny and new and Reuben had a lovely time playing there. I also have around 10,000 photos of the park because he wanted me to photograph him on every piece of equipment (climbing frame, roundabout, assault course) so do let me know if one photo just doesn't cut it for you.
Despite the fun playtime, he was disappointed to not get on a bench so we headed to Red Lion Square and snared this Peter Pan number:
(You aren't meant to climb on the benches but I only found that out later)
A little while afterwards, we spotted this one outside Bank station:
And that's as far as we've got, really. I spotted a "Wind in the Willows" one from afar when going to Maria's house on my most stressful transport day EVAH but I didn't get a decent photo. They're disappearing anytime now I think so not an amazing attempt but enough to tick that one off the list, which just leaves me with four to do by last week the end of September. Wish me luck…