The first thing I need to warn you about the Met line is how much concentration it requires to actually catch it. Any Met line platform on Central London is probably moonlighting as a Circle line platform as well. And a Hammersmith & City one too. So the likelihood of getting the right line is already an unpromising 33%. That's before you even start on the various branches and mini – branches of the Met Line itself, with its fast and semi-fast sections that alternate depend on what time of the day it is. I can't help but feel sorry for Preston Rd and Northwick Park – what did they do to get skipped out periodically and, quite frankly,  cruelly? At least with the Harrow – Rickmansworth section it isn't so personal. It  smacks of "Mean Girls" where Wembley Park and Harrow on the Hill are the popular ones and they're just passing notes in class about Preston Rd's shoes or Northwick Park's scandal-hit hospital.  I've only seen "Mean Girls" once so apologies if it's an imperfect analogy.  I believe I saw it in Croxley though, so that's probably the last time I took this particular trip. I digress…but the point is it a complex line, and it would be easy to go very wrong and end up in Hammersmith or Uxbridge. As I write this, I'm sitting in a dark tunnel just outside Baker Street, so there's no telling whether I'll get to Pinner or not.  But that's the game, and when it comes to pointless odysseys on London Transport I am most definitely a player.
The other problem with the Met Line is how long it takes to get anywhere. When I saw the 41 minutes the poster said it would take from, Liverpool Street to Pinner, I'm not sure I believed it. You can do a Victoria Line and a half in that time, and Pinner isn't even close to the end of the line. And the first few stops fair zipped by – up to Kings Cross, the doors barely had time to close between stations. Even Finchley Road appeared relatively quickly but the gap between there and Wembley Park. … well,  no one's pretending that's short. It even looks long on the map and it stretches over three zones.  Then you realise how many Jubilee Line stations that gap involves and it starts to feel realllllly long.  Additionally,  the dogs that had got on at Barbican got off at Finchley Road and I think Eva was missing them. She was certainly getting restless and climby.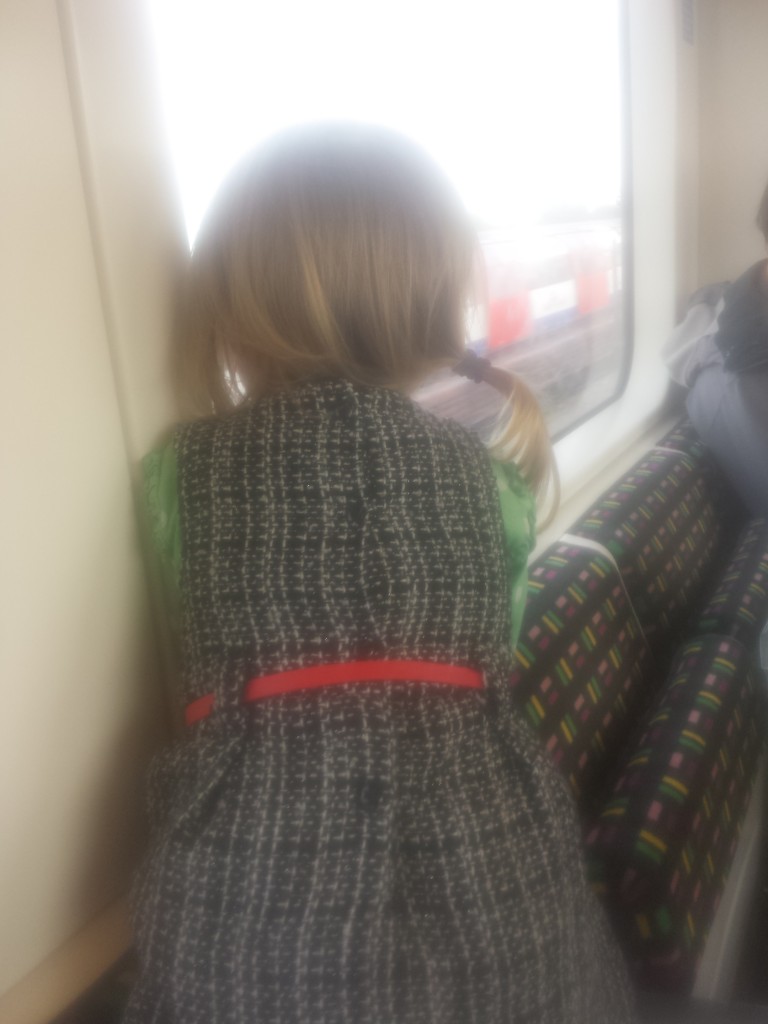 Strangely though, something else had happened with that climb into daylight. As London started to melt away, so to did the London rules. In other words, people started talking to each other. A couple sitting opposite gave me the shiny supplements from their Sunday paper (the exact same supplements that me Daddy saves for me…obviously nail varnish critiques are about my level). Then when we stopped for an illogically long time at Harrow-on-the-Hill, we all started to talk to each other about what had happened. Turned out there'd been a fatality at Finchley Road, just minutes after we'd passed through. That's never good news. We waited there for ten minutes, maybe more, with Eva constantly heading for the exit and just as I as considering giving up and finding a bus, we were on the move again. Mere minutes later, we arrived in Pinner.
The nice couple with the paper got off there too, and directed me to the lift that takes you up to the footbridge then back down towards the exit. Let's hear it for stepfree Pinner! Of course, to get that far we'd had to negotiate a lot of steps at Liverpool Street, both up and down again – if it hadn't been a Sunday, it may have been easier as the Met Line entrance would have been open. But the crazy thing is that there's a step-free route to catch the H&C, Met and Circle Lines in the opposite direction. So, you can go East in your wheelchair but you're buggered once you get back to Liverpool Street. Did they think this through at all? It's like those raised platforms at stations that are otherwise completely inaccessible. I like to think it's all part of a grand plan somehow. I may be going to a TfL accessibility event soon, so will find out more!
But, we'd made it. To the almost unfeasibly nice surrounds of Pinner. I mean, just look how lovely it is:
We were there for Pinner Arts Week and, specifically, the Open Studio of local artist Robyn of Robyn Made. She specialises in papercuts, which are a small miracle for someone like me who can't even guillotine straight. Look at this:
She also does fab illustrations of whimsical fairies and spiky dragons. I meant to buy a dragon badge for Roo but, dear reader, I confess that I got completely distracted by drinking tea and chatting and trying to extract Eva from the trampoline in the garden. She had a lot of fun. Robyn has been an imaginary friend of mine for a long time but she is also multi-talented (as so many of my imaginary friends are) and you should totally check out her website.
It was getting late, we were far from home and there was always the possibility that the Met Line was still up the creek and we'd have to go via an Overground route. So, we left Robyn and, passing the church opposite, caught sight of the top of Michael Rosen's head. He's a Pinner man, you know. I wonder whether he's signed up to the Pinner Pledge.
As it happened, the Met Line was not only working fine but even arrived just as we were going through the barrier. Eva was asleep, which was a good sign for my peaceful, magazine-reading trip back to Liverpool Street but would later come back to haunt me (a 10:15 bedtime, anyone?). It's a lot more straightforward catching the Met Line southbound – you essentially just rock up and walk onto whichever train is there – and it felt faster too. But I'm guessing that was more to do with the toddler being asleep instead of dropping gingerbread men all over the carriage floor…
Either way, I think we can tick off item 2 on The List – we have indeed spent some time on the Met Line…