I learnt a lot today. I learnt facts about the Olympic Park, I learnt how often people stop and stare at your toddler if she's dressed as Spiderman and I learnt where to buy juice in Stratford. I also came home with two different types of sand in my shoe and the kinda tiredness that just won't quit. That's what a day out in the Olympic Park does for you.
We were there to try out the Olympic Park Boat Tour, courtesy of Lee and Stort Boats. It was not only an exciting and new thing to do, it also ticked an item off the Bucket and Spade List. But I'm  getting ahead of myself. Our Stratford adventure began with a train. Not to get there, you understand – that was a 2-bus, 1 Asda job. But a steam train that was handily parked outside the bus station, for photo opportunities:
Having befriended "Robert", we looked for the pink signs that would light our way to the Olympic Park. I seem to remember it being well signposted from the Jubilee line, but from the bus station? Not so much. I found one, but then no guidance on whether to climb up the big flight of stairs or not. We decided we should, and found a lift that would take us up there and we were rewarded with another sign at the top. That took us through The Street at Westfield, and the Olympic Stadium was right in front of us. Of course, if you're looking for the Tumbling Bay Playground, as we were, you need the opposite end of the park to where the stadium is. So, I followed the route we'd trodden before – all along Westfield Avenue and across the road by the Copperbox Arena. We would later discover that you can turn off Westfield Avenue much earlier, and the Olympic Avenue will take you to Tumbling Bay. I told you I learnt a lot. And now you're benefitting from my wisdom, if you're not utterly confused.
To add to your confusion, the boat tours went from nowhere near Tumbling Bay but we had a picnic date with Roo's Godmother Auntie Savage, and Eva's Godfather Uncle BSav, who were heading to the velodrome to do the kind of thing they call fun. So, we found some space near the playground but not near enough so that the kids would run off constantly during lunch.
Well, that was the plan.
They hadn't even seen the sand-and-water play or the climbing frame yet, but a few wobbly things, some enticing pathways and some stepping stones were more than enough to distract them all the time we we picnicking:
Not to mention that piece of random art that you can see just behind SpiderEva's head. I said not to climb on it, but things were somewhat slacker on Auntie Savage's watch and Eva disappeared inside it for a few minutes. When she emerged, we took the kids to the playground itself and they had a fine time getting their clothes wet and filling buckets full of that strangely coarse sand (we assume it's from the construction of the stadium somehow). I had brought swimsuits for them but didn't think it was warm enough for them to wear them…so they just water-played in their socks. Godparent watch again.
It was time to go and find our boat, so we dried them off and headed down Olympic Avenue towards the London Aquatic Centre. On the way we passed a recreation of Hill Valley, from the "Back to the Future" films. I really hope it stays after they've finished the showings.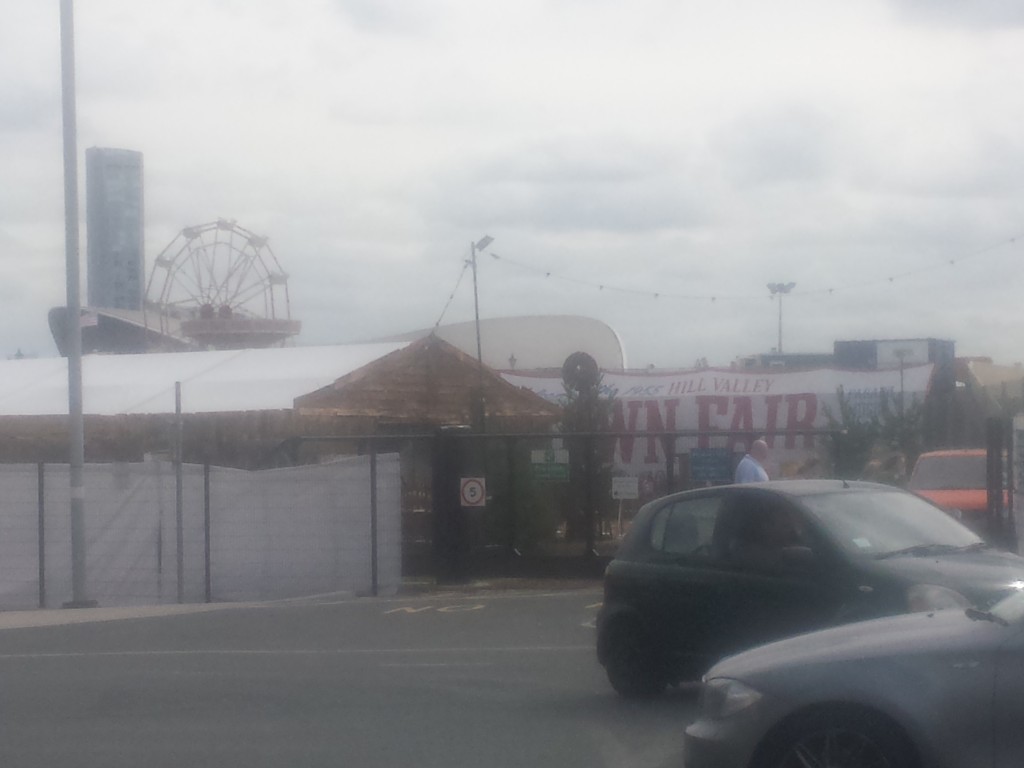 The walk took us about half an hour because we walk verrrry slowly, but also because the Olympic Park is huge and we were traversing it. We had the wave-shaped Aquatic Centre in our sights the whole time, we just had to wiggle our way towards it. When we got there, we walked past the Centre and took the lift down to the waterside (where the main entrance of the Aquatic Centre is) and then turned right to find the accessible path down to the pontoon: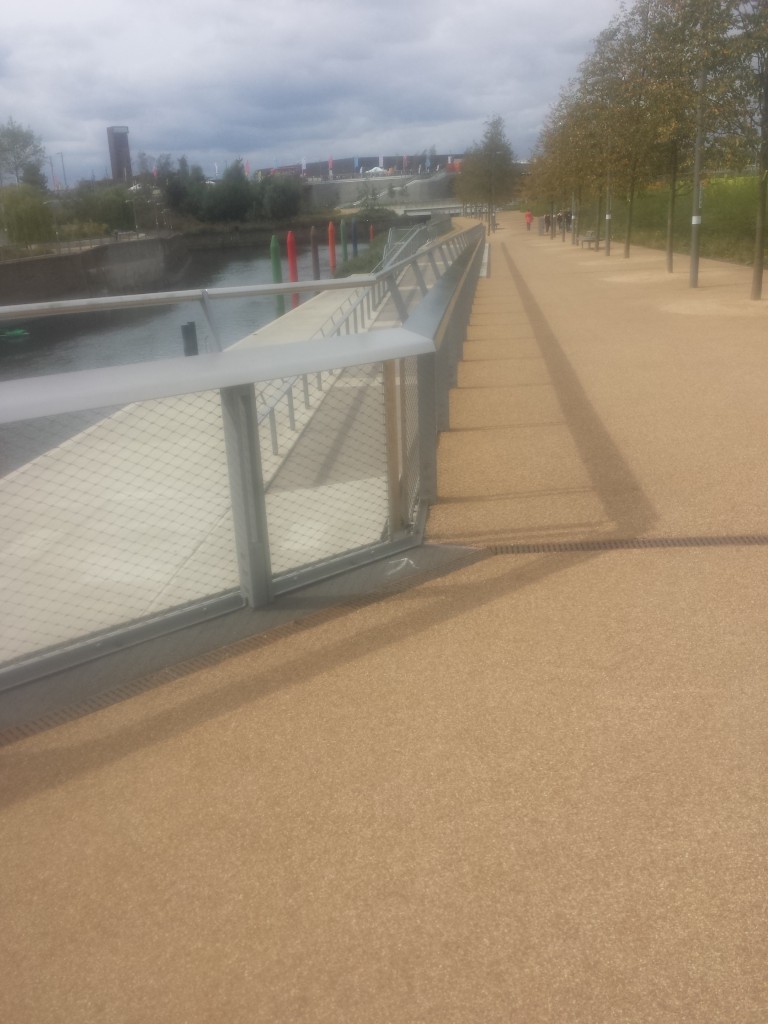 Down at he end, there's the "ticket boat" – a permanently moored boat which looks to have a little cafe aboard. You buy tickets there and then queue along the pontoon for the actual boat (there's space to leave your buggy on the pontoon too). There wasn't a huge queue and boarding was pretty swift. When we were settled in our seats, the skipper came around and offered lollipops to the kids, which was a nice touch. He later gave them to all the pensioners too, which was even nicer. Our guide for the tour was Gabrielle, who works in the AcelorMittal Orbit, and she explained that we'd be going up to the northern end of the park and then back down to the south.
Reuben had hit a bit of a slump by this point, so he sat and ate snacks for most of the journey but Eva really enjoyed it. She peered out of the window, waving to people on the bank and pointing out ducks. Occasionally, she would sing "Row, row your boat" or "3 Little Ducks"…just to add to the ambience. But she was mostly still and quiet, so we could actually hear Gabrielle pointing out the sights. There was the Diamond Bridge, complete with snogging couple underneath, and the lock that remained from the original waterways. As we moved into the North Park, the concrete embankments gave way to reeds and wildlife (we saw a dragonfly…Reuben thought it was an actual dragon) and it was very peaceful – a sharp contrast to the busyness of the South Park, where the Mayor's Liberty Festival and National Paralympic Day were going on. She told us about the future of the park – the media centre that was becoming a mini Silicon Valley, the athletes' apartments which had been fitted with kitchens so that normal people could move in. I must admit to having been a bit cynical about the "Olympic Legacy" a few years back, but with so much of the park open to the public and useable, I'm beginning to think it was money well spent. I haven't swum in the Aquatic Centre yet, but you can just rock up and do that…and apparently it's only £3.75 to get in and you might even glimpse Tom Daley training in there.
We turned round, at which point Nathan took this lovely – and phone-endangering – shot. Doesn't it all look lovely and mellow? We were heading back towards the South Park, which would not quite be so mellow, as Gabrielle told us about the new IKEA-sponsored village and the view you could get from the top of the Orbit. I'm quite tempted to go up there now, despite my crippling fear of heights. I want to see what a view from the East, over 20 miles of London looks like. They also have a hawk that's named after Boris Johnson – that's gotta be worth a look.
As we went back past the pontoon, Eva spotted her buggy and it was time for her to have a little meltdown. She's quite attached to it, apparently. We went downstream just a little way before disembarking and reuniting screaming toddler with her precious mode of transport. It was a fun experience, and a good way to get a feel for the scale of the park – something you don't get from just visiting isolated bits of it. Sadly, the tours are only running till tomorrow but hopefully they'll be back next summer.
While we were on that side of the park, I thought we might as well look around the Liberty Festival and discovered….a whole other playground! So, sadly, we didn't give the festival much attention as the kids were too busy in the (much finer sand) sandpit and climbing the climbing-wall slide:
There was some kind of theatre production going on at the same time, but it seemed to involve mime and we fear mime. Eva ducked under the fence to have a look, but she was mostly confused so backed away quickly. Me and Eva had a wander around the stalls and listened to the live music but Roo just wanted to play. His dream is to play all day, apparently, and he's keen to "live the dream" ala the Lego Movie. So, they played till we they were exhausted and it seemed time to head home. Given the option of a portaloo or a gold-plated toilet, Nathan took the latter so we ducked into Westfield to use the facilities and the free wifi and find a cool drink that didn't break the bank.
The first two bits went OK. The last, not so OK. The prices, the crowds, the tired children…it was ugly at best. So, we got out as quickly as possible. I left the three of them sitting on the big flight of steps while I visited the old, faithful Stratford Centre, where I scored a 1.5l  bottle of Copella for £1.50 from Sainsburys. Remember kids, there is life outside Westfield and its £5 smoothies. And then? Nothing but a long bus trip home with two sleepy children and one sleepy husband. A fitting end to a busy day.