Hello lovely readers and a quick post to let you know about some things. User-ful things, as Reuben would say.
Firstly, there's only a few more hours left to enter the Octonauts Live! giveaway…I'm really excited about the whole thing and hope you will be too. One family ticket to be won for anywhere in country…as long as the show's going there, of course. If you live in Giggleswick you might be out of luck.
I'll draw the winner tomorrow, using the ever user-ful random.org, but not sure when because I'll busy launching the…London With a Toddler Roadshow! You heard that right – this blog is going on the road. It's a fairly short road, or series of roads, and it's mainly just the road we live on but still I'm sure there will be crazy tourbus antics (mental note: get a tourbus). It starts tomorrow, at Roo's school fete and then next week we're at Highams Park Day. The stall consists of a largely untested play map of London,  partially made by my uncraft-y hands out of toothpaste and stuff. No, really. The map looks rough around the edges but it sure smells fresh. Here's the work in progress: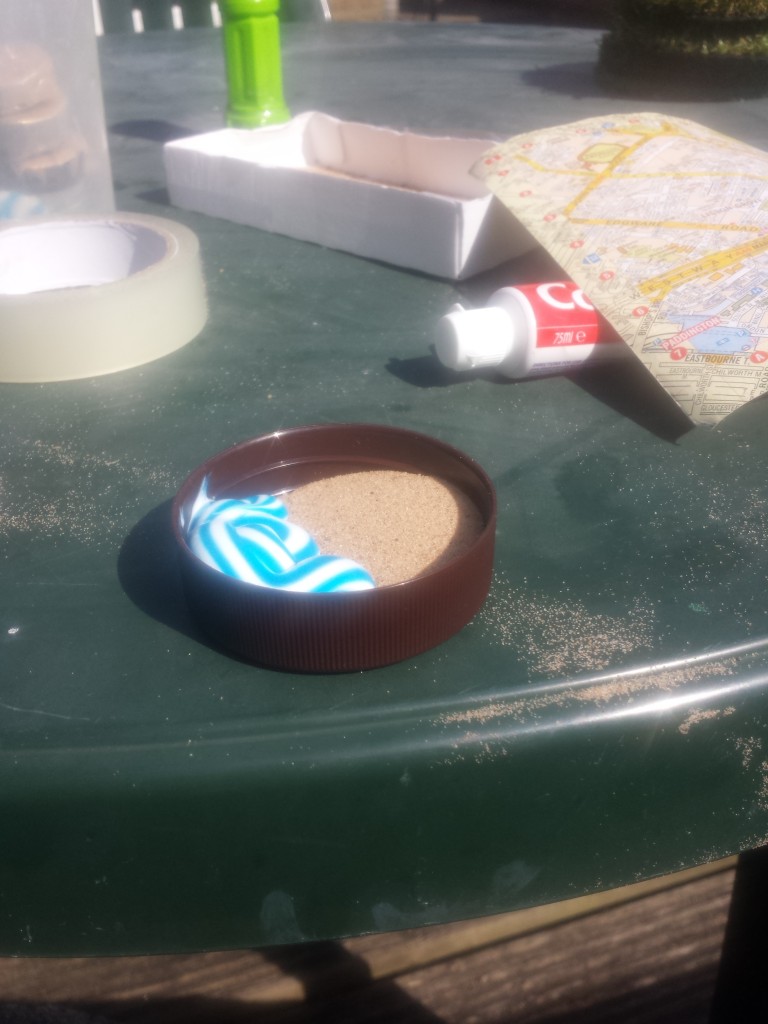 And here's the almost finished product:
Come down to Highams Park Day at Vincent Green on Saturday 12th July to have a play and help us rebuild London from the concrete up. With lots of sandpits.
Finally, let's think ahead a bit. To September, when the summer holidays will be over and Reuben will be safely despatched to Year 1 (I feel both happy and terrified by that). On 13th September, TWO exciting things are happening – one in our old 'hood, one in our new.
Kennington first and it's a family fun day at the Oval. If you've ever wanted to stride across that hallowed green, this is a good chance to do it and have some fun too. It's free entry and they're raising money for St Thomas' Hospital, where both my kids were born. Look, here's Reuben at a day old:
I look both young and very tired. I'm now old and very tired. Anyway, it's a great cause (Tommy's includes the Evelina Children's Hospital, where Roo's BFF was hanging out at the same time as that photo was taken) and you should support it.
On the same day is the 3rd ever Stow Festival up in Walthamstow Town Square (outside the Mall). We went there in 2012 and this year I'll be singing in it, with the Walthamstow Acoustic Massive Choir. Both exciting and very scary. Come and watch!
That's the news for today. Watch out tomorrow for the Octo-winner and an exciting post about some pigs in Hackney.