As soon as I heard about the premise of this play, I was intrigued. I've doubtless mentioned it on the blog before but I played the part of a mechanical in MSND when I was Reuben's age (which yes, is terrifying now that I think about it). Here's the only proof I have that this did, in fact, happen (with live dog no less):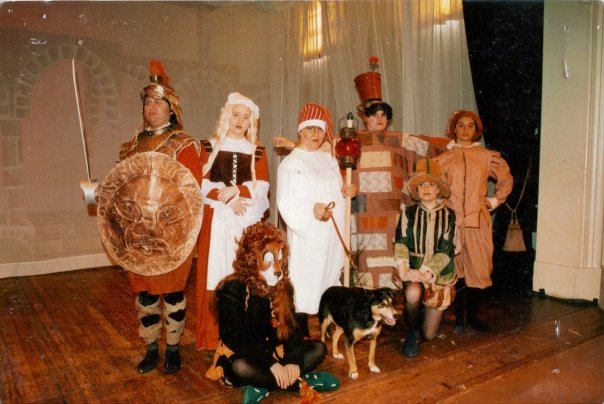 So a play exploring what the mechanicals did next sounded like exactly my kind of thing. Would the writers be able to recreate the riotous rehearsals for Pyramus and Thisbe with all the accompanying Freudian slips? Yes, as it turns out they pretty much did. But let's now jump the gun. This is an LWAT review and so a bit of rambling preamble is mandatory.
We were at church this morning, obviously. We have been at church pretty much constantly this week. But today was a Sunday so I guess we were meant to be there today. Eva and I had lunch at My Favourite Cafe in Essex Road  – Set1 for me, halloumi, toast and chips for her – and jumped on the 56 all the way to St Paul's. Eva chose bus over the speedier tube option but was complaining even before we got to Angel about how long it was taking. So I let her play games on my phone while I looked out of the window and wondered why I still had a massive blank spot when it came to Farringdon being just down the road from the Barbican. I also smiled wryly as we passed Little Britain, which I'd last visited on 12th December 2019.  A very Little Britain kind of day.
When we rounded St Paul's, I remembered that Eva now had a phobia of bridges. I can never keep up with what she's scared of when but apparently it started when I made her cross Westminster Bridge in a thunderstorm. The Millennium Bridge can be challenging for people who don't have a bridge-phobia and it was windy today…so you can imagine how that went. The scene in Half-Blood Prince where the Death Eaters blow the bridge up didn't help but, somehow, we made it across in just over five minutes and entirely un-blown-up by Death Eaters. Phew! Next, we nipped into the Tate Modern to use the loos – although I'd like to come back for  the Uniqlo installation – and then found our way to the Sam Wanamaker Playhouse at the back of the Globe.
Eva's been to the Globe before – for Macbeth with Bunny – but I haven't. Both theatres have the same main entrance, with the main Globe to the right and the Playhouse to the left.  It's the indoor theatre and is mainly seated but with some standing rows at the back. It's built in the Elizabethan style and we were in the Upper Gallery – "a perfect view of the whole stage", according to Eva.
As we took our seats, the actors were already on the stage setting things up and chatting to the audience. The best seats for the bantz were probably in the pit, although they waved and talked to all the different levels of the theatre. The official start of the show came with the announcement that the Duke and Duchess were on their way and the mechanicals only had 45 minutes to get their play ready. And chaos ensued.
I won't spoiler too much of the plot but the basis is that Theseus and Hippolyta enjoyed Pyramus and Thisbe so much that they've invited the mechanicals back to perform again for their first wedding anniversary. It's good to know that the pair of them made it to that milestone as it was a bit of a rocky start, what with the whole "doing thee injuries" courtship. And it nicely ties together the three different groups of MSND as the new play the mechanicals have chosen to put on is a version of what happened with Bottom and Titania in the woods. So although the mechanicals are the main parts in this production, the fairies and the court are woven in too.
It's a show that seems to be aimed at theatre kids and Shakespeare geeks. Eva is rapidly becoming both, so that's good. Not to say that other kids won't enjoy it but when they asked if anyone in the audience liked acting and a number of hands shot up….well, that was my clue as to the key demographic here. There were several opportunities for audience members to participate, such as providing the sound effects for the play-within-a-play and, for three lucky people, performing a "fairy dance" in the roles of Cobweb, Moth and Mustardseed. Heckling was, I feel, encouraged and there was even a space for punters to offer their most vicious insults for Bottom and Oberon to throw at each other. Come prepared!
I mentioned earlier that the show managed to capture some of the riotous energy of the original and I stand by that. The writers – Ben Hales and Kerry Frampton – clearly know their source material well and cleverly weave quotes into songs and dialogue. Some of these quotes are paraphrased and some virtually intact but they never jar with the new material. Kerry Frampton also plays Bottom and really captures the preening, self-involved buffoonery needed for the role. I feel extremely stupid that I didn't realise Bottom was played by a woman until I saw her in the foyer afterwards. It plays into one of the major plot points about women on the Elizabethan stage so I really should have clocked that but it just shows how convincing she was as a man. Eva still won't believe me on this point though.
One of my favourite nods to the original was all the wordplay where Quince and Bottom kept saying almost the right words in just the manner that Quince does in the prologue. This new play had two prologues, one very much in the same style and the other lifted from a different Shakespeare play. Again, no spoilers here as to which play that was but you might be able to guess. Some of the wordplay verged on adult content – you don't often hear the word "impotent" in a show aimed at primary school kids – but none of the kids in the audience noticed. They did all notice the wordplay around the donkey's head and absolutely howled with laughter. Eva was laughing so loud that other people were turning round in surprise and I had to shush her a few times. But it was very, very funny.
I mentioned the songs briefly and there were a highlight too  – the four actors played a variety of instruments between them (from memory; double bass, accordion, xylophone, guitar and ukulele) and again, there was an opportunity to join in with one of the recurring tunes. Lovely harmonies, even with Flute's voice not as ladylike as it once was, and very well executed, often for comedy effect. It's probably harder to sing deliberately out of time with someone else than it is to sing in time, right?
Overall, a great laugh and a deserving successor to the original. And you know that I don't say that lightly. It gives the air of perfectly-planned chaos and although the runtime is longish for the audience age (2 hours including interval), it flew by. I think all kids will enjoy it because there's plenty of slapstick and silly jokes in there. I mean, there's a literal banana skin at one point. But if you have one of those kids who's particularly into Shakespeare they might get a bit more from it. They will quite possibly think it's as "A-MAZING!" as Eva did.
Heading home, we chose to go over Southwark Bridge as it seemed a bit more solid than the Millennium Bridge. And it had some lovely views too:
What it doesn't currently have is any bus stops because the road itself is being dug up. I'd planned to catch the 344 back to Liverpool Street as my feet were knackered after a heavy week's activity. But we ended up walking past Cannon Street and catching the 11 just on the other side of Bank junction. Which then took an unexpectedly southerly turn towards Monument before grudgingly allowing us to get off at Liverpool Street. It definitely would have been quicker to walk from Bank but I'd told Eva we would get the bus and occasionally I like to deliver on my promises. Some people reading this might now be smiling at the combination of "Promise" and "Bus stop" but that's so niche I'm not even going to unpack it for you here. Soz!
Let me just say this though – some promises are not worth keeping when they involve an overheated bus taking you three sides of a square. The promise to take Eva to shows she loves every weekend though….that promise is going well so far.
"Midsummer Mechanicals" is on until 21st August – for more tickets and info, click here.
Disclaimer: I received free tickets in exchange for a review. All opinions remain honest and my own.