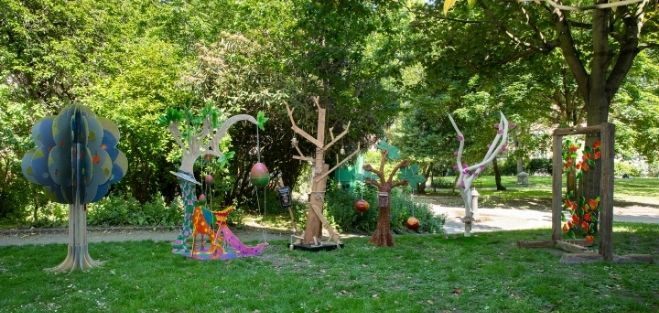 With the restrictions lifting, we were well overdue a visit to Little Angel Theatre. Luckily, we were only halfway there when I realised that this production was at Little Angel Studio, not the theatre itself. Unluckily, I realised this after I'd dropped my phone and shattered the glass so I had to figure out the route through a plastic bag that formerly held my mask and had been hastily repurposed as a makeshift screen cover. Arsenal were playing at home so our route via Highbury and Islington was a little slow but we made it to the show almost exactly on time.
"The Wishing Tree" is the story of Ben, an 8-year-old boy who has moved to a new estate in Islington, far away from his friends and family. He explores the estate and finds himself on a quest to help a tree sprite called Green. It's a simple and charming story about overcoming loneliness and the voices of real Islington school children are heard, talking about their worries and wishes. There are two performers and, of course, a cast of puppets to tell the story.
I'm always keeping half an eye on Eva during live shows as she gets easily overwhelmed by the emotion involved. And the story was a bit emotional at the start when Ben was missing his old life so much. But she seemed OK, which means that this show is probably fine for even the most sensitive children. There are lots of light moments during the story -like when Ben meets the conker-shaped sprite of the Tree of Play – to keep the kids engaged and smiling. There was a bit of a darker moment with the eyeless sprite of the Tree of Seeing but Eva coped fine with that and the next sprite – a mango-obsessed parrot had her laughing and also "hungry for mango". Weren't we all?
Compared to some of the shows in the main theatre, this was a bit simpler using just the one set although the performers and puppets ducked in, out and around it. But the story – written by Joseph Coelho – touched on some very big themes, which might well resonate with the children who have been through such a traumatic couple of years with Covid. Who doesn't identify with feelings of not knowing your place in the world or how to fill your time while your parents are on work calls? The real-life voices of kids added to the relatability of the piece – these children worried about climate change and not being able to see their grandparents. In a way, they spoke for all the children who've had to carry such a lot of anxiety around with them during These Times.
But as I mentioned previously, the show never verged too far into darkness and emotional turmoil. There was enough humour and fun to reassure any kids watching that, even through the darker times, there was still light and colour and optimism. The ribbons of the rebuilt wishing tree at the end very much symbolised this hope – that there was a better future ahead and that kids could make wishes and believe that there could come true.
So, pretty much the perfect show for these times, as we slowly emerge from Covid and try to make sense of the world around us. Challenging in parts, but reassuring too and imbued with a real warmth and humanity.
And Eva emerged smiling from the theatre, which is a real win. Of course, it might have been the prospect of buying a fox glove puppet on the way out that was making her smile too:
Or maybe the prospect of yummy ice cream at Udderlicious on Upper Street:
But either way, it was a lovely day out for me and the girl. And here's hoping there will be many more theatre trips to come….
Disclaimer: I received free tickets in exchange for a review. All opinions remain honest and my own
"The Wishing Tree" runs at Little Angel Studios until 26th September. For tickets and more info, click here.