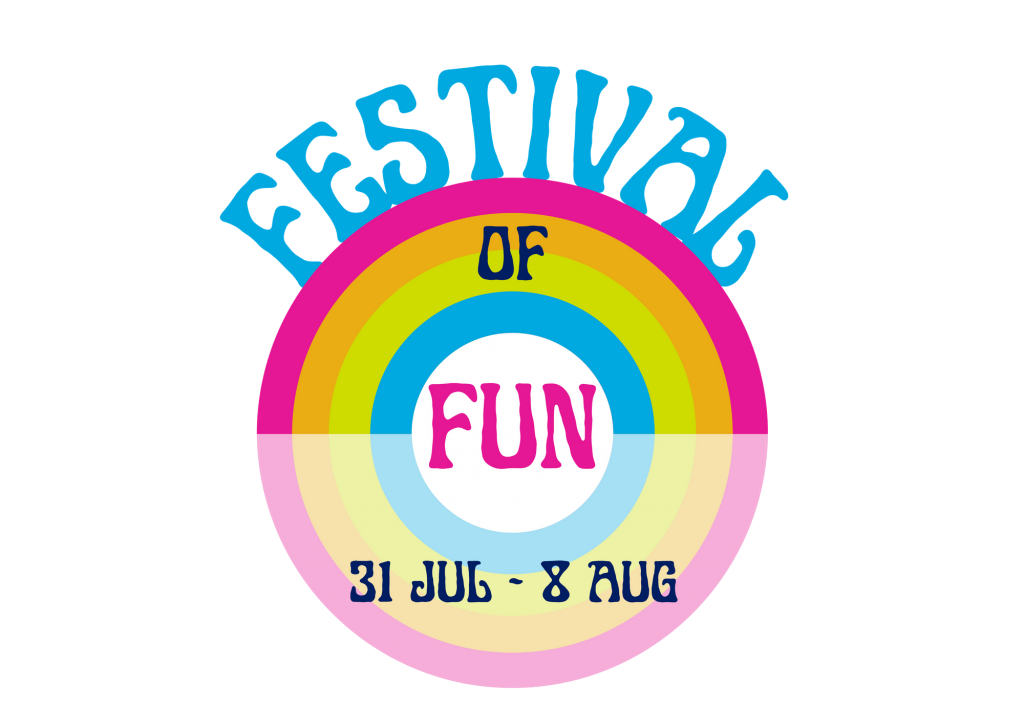 Wow, Chickenshed…it has been a long time. It's been a long time since we saw any theatre at all – I think I worked out it was 18 months since our last gasp of theatrical freedom before Lockdown#1. So it was brilliant to be invited back to the Shed to join in with their Festival of Fun.
The logo for Festival of Fun is a rainbow, which was pretty appropriate because it was tipping it down when we left the house:
But sunny by the time we got there. Everything had worked out super-smooth on the journey so we even had some time to kill. We wandered around the parks just behind Chickenshed and discovered there was a playground there, which I'd never noticed before:
It was a bit too soggy for Eva to play on but worth bearing in mind if we are ever early again (seems unlikely, I know). There's also this random bit of Art Deco clock towerness:
Which fits rather nicely with the superb Art Deco escalators at Southgate:
I know, I've probably mentioned them before but Southgate really is one of the best stations on the whole tube network. If nothing else compels you to go to Chickenshed, then a visit to the space station surely would.
It is striking how, after so long cooped up, the kids aren't used to the tube any more despite being born Londoners. I bought Eva a lollipop as her ears go funny on the Victoria line and, as we emerged out of the tunnel on the Piccadilly line, she could hardly believe that there might be a tube train that goes over ground, despite the fact she's travelled that route loads of times before. "I can't believe I'm seeing the sky on a tube train" she exclaimed, over and over again.
Anyway, the fairest of winds meant we had time for a pot of tea and a bag of crisps in the Chickenshed cafe before the show started. The cafe isn't yet back to doing hot food but they sell ice cream, cakes, hot drinks and other snacks so it's a good place to sit down for half an hour or so. Eva also had a wander around the Chickenshed garden to "get a bit of fresh air" as she called it.
Once I'd finished my tea, it was time to go in. Covid precautions are still in place so ticketing is contactless – the staff members scanned QR codes, either off phones or printouts – and there are gaps between allocated seating blocks. Plus masks on for the adults during the show and the usual hand sanitiser stations etc. Other than that tho, it felt like old times. Before the show started, we were given a quiz to fill in, that was taken directly from the source material for the show "How to Make a Better World" by Keilly Swift. The quiz helped you work out what kind of activist you might be – Eva filled in most of it before the lights went down but it was revisited during the show itself so there was no need to try and get it done beforehand. She got Animal Rights Activist, if that at all surprises you.
There was a video intro to the whole thing by Keilly Swift herself, explaining that her book was non-fiction but Chickenshed were going to do a dramatic interpretation of the themes within the book. And that's what they did. There was a loose kind of narrator character, called Prof, who introduced himself by saying how important adults were and how little children knew about anything. It got the reaction you'd expect. Of course, by the end he'd *spoilers* changed his mind and realised that children were a vital part of making the future better…but I'm sure you're not surprised by that.
The show was very interactive, with ideas from the children forming a manifesto of how to actually make the world a better place. This was split into two parts – the first was on the subject of "People" and the kids in the audience shared their ideas, which were typed live onto a giant screen at the back of the stage. Eva was too shy to speak up at this point but she did pipe up for Manifesto Part 2, on the subject of "The Future". Her idea was to invent a litter-picking machine so that there would be no litter on the streets. She had also previously mentioned another idea to me – "Fill the world with puppies" – but clearly she thought this might be a bit flippant in a show that dealt with weighty issues like climate change and discrimination.
If this sounds all very downbeat, be assured it wasn't. The more serious bits were interspersed with high-energy songs and dances, such as one inspired by Frida Kahlo that I think was called "Paint Your Own Reality". As someone who never could colour inside the lines, I really connected with that one. There were also some sketches, with typical Chickenshed surreal humour. Eva particularly enjoyed the one with the question aliens, who could only speak human when using one of their translation portals (which the non-alien among us could mistake for hula hoops). The aliens' costumes were also very sparkly, which Eva obviously appreciated, and it was the aliens that hosted the "Which Activist are You?" quiz. One of the other sketches was to do with how different heritages could be interpreted through potato dishes, which Eva also appreciated as a big fan of most types of potato.
There was a mix of live and recorded music, with a small live band to one side of the stage and a live vocalist harmonising with the recorded track. It's lovely to hear any kind of live singing again after so many months without music and theatre. I'm really happy that it's back. The Chickenshed ensemble dance and act so joyously that it's hard not to feel more positive about the world after you leave and that's the message of the show too – yes, our children might be inheriting a world full of problems but they've got some great ideas as to how to sort it out. As we left, we were given a printed copy of the manifesto to take home so that the kids could start putting their ideas into action (tho "No, no, no!" might take some interpretation). It was the right balance of inspiring and entertaining without tipping into being overly worthy – there were plenty of laughs and Eva enjoyed heckling Prof ("Children know a LOT!") as well as all the songs and dances. The run was sadly a short one so today was the final performance but hopefully it will return to Chickenshed some time in the near future.
We bought a copy of the book on the way out and Keilly Swift was there to sign it in person:
It was lucky that she had some brand new reading material for the way home because the luck we had on the way did not replicate itself on the way home. We got stuck at the bus stop, at Finsbury Park and at Walthamstow Central but the 90 pages lasted her the entire way. Plus another lollipop, obviously. She seemed to really enjoy the book and it certainly took her mind off all the delays.
And once we got home we even saw a real rainbow. I mean, it was very faint but you can more or less make it out if you squint: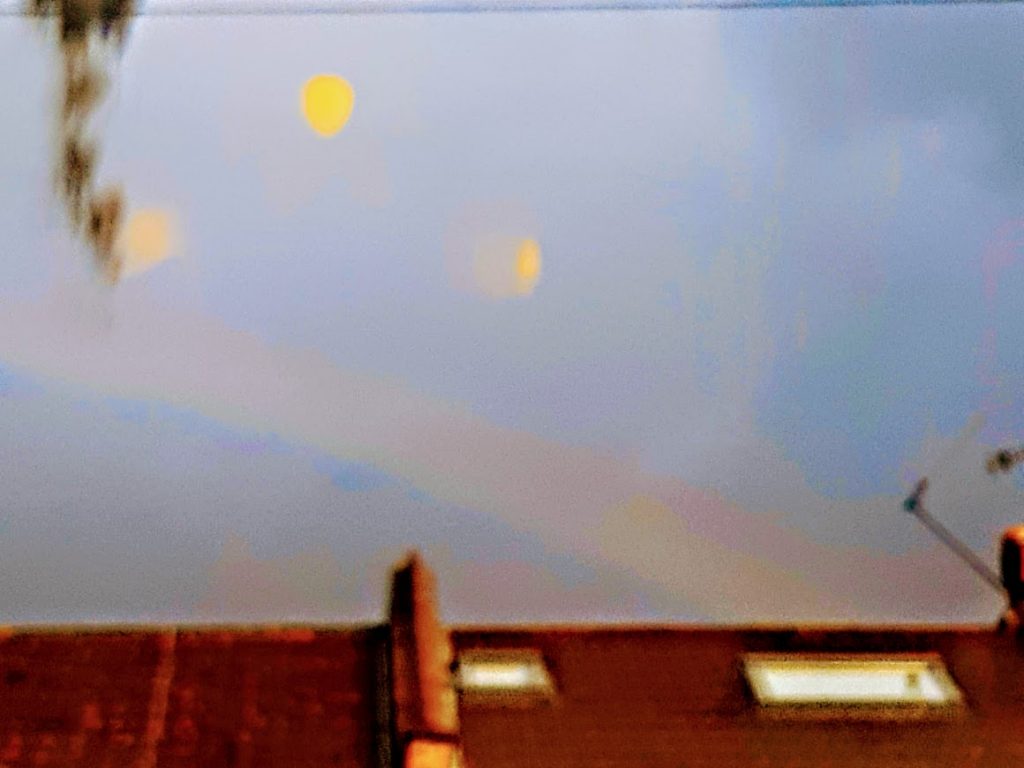 And I almost forgot to mention that a new soft play and cafe has popped up at the back of Chickenshed, which we may need to try next time we're visiting the Shed. And guess what it's called? Yes, there was a bit of a theme today:
Plus Eva was wearing her rainbow wellies and the garden at HP stations has recently become adorned with hundreds of crocheted rainbows:
Seeing as rainbows are a symbol of hope,  it felt appropriate that we saw so many on a day when theatre finally returned to our lives. Hope is here….
Disclaimer: I received a free press ticket in exchange for a review. All opinions remain honest and my own. For more information about Chickenshed's upcoming shows, have a look here.