It's hard to make this month pass, isn't it? The kids have only been back at school for three days and it's the weekend already again. So any glimmer of entertainment hope is welcome and Eva's new obsession with the Egyptians was one such glimmer of hope. We could fritter away a grey afternoon in the British Museum for not much money and not much effort. Hooray!
And Eva was suitably dressed in her version of a Pharaoh costume. I'd like to point out that this happened while Roo and I were out at the sorting office this morning. In other words, it's clearly Nathan's fault that our daughter was leaving the house in January in flipflops.
I'd thought Central London would be packed out on a Saturday afternoon but Russell Square tube was actually spookily quiet. We had the lift entirely to ourselves:
On the way to the museum, we spotted this blue plaque for Emmeline Pankhurst:
Eva knew she was something to do with votes for women but pronounced "suffragette" with a hard g. Adorable. We wandered across Russell Square, stopping to look at the two Bug Hotels and some good dogs. There was a cafe in the middle that was established in the same year as I was but we weren't going to stop for coffee just yet.
Last time we visited, I remember having to go in through the back of the museum. I had no idea if we still had to do that but it was the closest entrance and there wasn't a massive queue so we decided to go that way. It's not as grand as the front entrance but Eva said it had "Roman-Greek pillars" because apparently the Romans stole the idea from the Greeks. She's full of these little tidbits.
And also, she did not appreciate it when I pointed out some new "Roman-Greek pillars" that were ready to be added. I think she rolled her eyes at me:
The queue and bag check were pretty swift and once we'd got inside, it was then time to stop for coffee. It was Eva's idea but I wasn't going to say no. We had a latte and a millionaire's shortcake under the "criss-cross ceiling" as Eva called it:
By 3ish, we probably needed to start our day out so we headed to Room 4 – Egyptian sculpture. It was a good call because Eva thought everything was "amazing" and couldn't believe how many Egyptian things could be in one room. She spent lots of time looking at the hieroglyphics and educating me about the Rosetta Stone. She's learnt a lot in the last three days at school
I mean, just look how excited she was:
She was even more excited to learn that there were another four rooms of Egyptian stuff upstairs so we found the back stairs which led to the Mummies section. Eva had seen a picture of a mummified head in her library book about Egypt and it freaked her out so she asked not to go to any of the Egyptian death rooms. Which was tricky cause basically all the upstairs rooms were death-themed and contained lots of mummified things. But some discreet steering of her meant we avoided the corpses and only looked at the pretty, gold coated sarcophaguses (Eva's term – should it be sarcophagi?) although she caught a glimpse of a skeleton that she didn't yike. At least she didn't walk straight through with her eyes shut like she did at the Museum of London.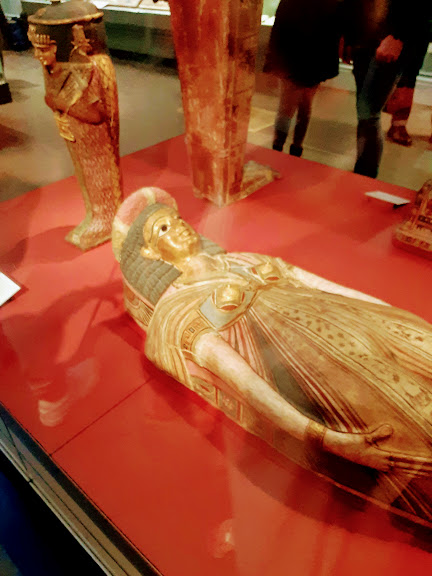 We also spotted something else she'd seen in her book – an ancient Egyptian game called "Snake". Presumably to be played on ancient Egyptian Nokia 3210s:
After that, we made our way through the Greek and Roman rooms, finding things that Eva yiked along the way, like some models of clay dogs:
And something that looked like the bust of Rowena Ravenclaw wearing her diadem:
I was kinda keen to head home after we'd done all the Egyptian rooms but Eva wanted to see everything the museum had to offer. I thought she'd change her mind if we were sitting right by the front doors but no, we sat by the front doors to have a snack and then she made me climb all the way back up to the third floor to go to the Medieval European rooms.
It's unlike Eva to be keen on stair-climbing but she said she yuved the staircases because they made her feel like she was really going back in time "into a Roman house or an Egyptian temple". That made me slightly reluctant to go to the Medieval bit in case we actually had gone back in time and we got Black Death or something. No fear – Eva had a solution and handed me an imaginary "anti-plague tablet" to swallow as we stepped into the gallery. That girl has an answer for everything but at least I convinced her to take the flip-flops off and put some shoes on because we weren't in the "sandal era" anymore.
By this point, we were whipping through the galleries at top speed – Medieval Europe was followed by the Asia galleries (with a quick loo break next to Japan) and again, just as I thought we were going to head home, she told me we had more to see – she had seen a sign to the Africa gallery on the way in and we hadn't been there yet. Problem was, we needed to be at the bottom of this hole:
Tempting as it was to just take the plunge, we took another way round and found the Africa galleries on level -1.
There were some giant masquerade puppets which Eva claimed to be allergic to because she sneezed as she walked past them and a wall of hats which she said were "all the hats in Africa". It inspired her to sing a little song that sounded like a poor man's Band Aid. It went something like this: "There are no more hats in Africa because they all are heeerrrreee". Please donate generously.
We now only had two more stops on the itinerary – the classic end-of-visit combo of gift shop and toilets. Eva wanted a book about Egypt to call her own once she'd taken the other book back to the library. And I was happy about that because it'd keep her quiet on the tube but it turned out that she feel in yuv with a Cleopatra rubber duck and rejected every book option in favour of it. Good luck reading this all the way back to Highams Park:
She christened her Cleo-quack-ra and made duck noises all the way back instead. Ah well. At least it was a way of entertaining her all afternoon…