We're slowly getting through this thing they call the summer holidays. It's a long haul, like the walk to Mordor. But we're on day 29 of 47 now, which I reckon puts us around the end of the Two Towers. And successfully getting the kids to Liverpool and back without any major fallouts was an unlikely victory of Helms Deeps-like proportions.
I know, it's Liverpool so I could have gone with a whole "Magic Mystery Tour" metaphor instead. But it's kinda obvious Robert.
So we set out from Winchester – don't ask – very early on a Sunday morning and spent five hours in the car with only a lunch break at our friends' church in Coventry and a stop at Sandbach services to break up the long haul of snacks and Mr Gum books. Kudos to the kids, they were well behaved but it was a long journey. Still, we had the joy of spotting "God's Fidget Spinners" on the way:
We were staying with Ellie and Wiley just outside Liverpool – the Waterloo that had confused me all the way back in 2013 – and I'd told Roo, quite truthfully, that they lived near the beach. So I think he was expecting more of a beach holiday than North-West England usually provides. The heatwave is partially to blame because the kids have forgotten what a *normal* British summer feels like. But on that soggy Monday morning, there was an element of disappointment when he realised it probably wouldn't be a day on the beach. He was stoically wearing shorts just in case but we had to do an element of expectation management. We'd go and see the beach and then spend the day in Liverpool instead.
It wasn't exactly raining but it wasn't exactly sunny either. We walked to the Crosby Coastal Park and the kids played in the massive play area while Nathan, Ellie and I sat on a damp bench watching them. Apart from some bored teenagers, we pretty much had the place to ourselves:
And some lovely views over the lake which wasn't the sea – it was a lake near the sea. Yeah, it confused us all too. There were loads of *really good* dogs running around it and through it, which delighted both the kids and the adults. Eva dubbed it the "doggy fun area" although according to Nathan, it sounded more like the "doggyfneria"…so that's what we called the coastal park for the remainder of the holidays.
Then over the sand dunes to the beach itself. Again, it was pretty deserted. In fact, our only company were the hundreds of rusting iron statues that formed Anthony Gormley's "Another Place". We had a Gormley figure at the Wellcome Collection – he may still be there – and he hung upside down over the doorway. These fellas were buried in sand or leaning at odd angles in the water. Slightly disconcerting but Nathan really bonded with them: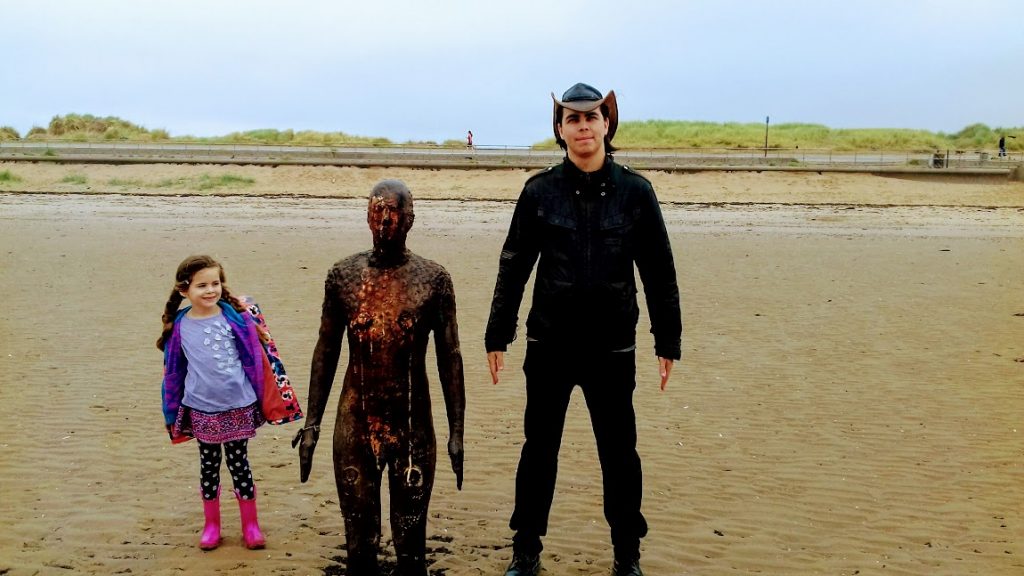 But it was chilly and starting to rain quite a lot so we dived into the nearby Waterloo Place Gallery and Cafe to have some much needed caffeine and sugar before we even attempted a trip to the big city. And there was certainly sugar in abundance, including "sweetshop cake" for the kids and a very caramelly malteser brownie for me. We were fed, we were partially caffeinated, we were ready to jump on the Northern Line and go and explore. Except that Roo by this point had very cold legs so we had to stop at Ethel Austin in Liverpool Central station and buy him some £3 jogging bottoms.
Then we were ready.
Our destination was the Museum of Liverpool but there was a lot to distract us along the way. Like this street filled with umbrellas:
And these giant grassy steps:
And these eyes in a tree, which the kids christened "Stick" because of "Hey Duggee":
And of course, some superlambananas. Obviously.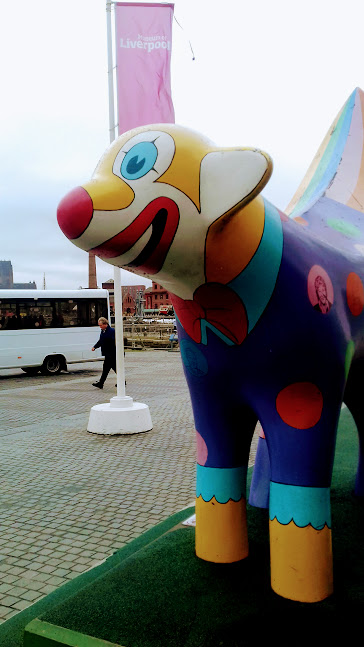 But eventually we made it round the Royal Albert Docks to the museum, which is both massive and modern. I think it was opened in 2011 and it's three floors of local history and interactive stuff. First off though, we needed lunch. We'd picked up some sandwiches at the Sainsburys at the station so went straight to the picnic area on the ground floor (turn left at the information desk) before we did anything else.
Then up the grand sweeping central stairs to the Education Area, where the kids made thaumatropes out of a bit of paper and a straw. If you don't know what a thaumatrope is, it's a bit like a zoetrope. If you don't know what a zoetrope is, go to the Museum of Childhood sometime.
The first floor was full of galleries about the history of Liverpool and there was lots for the kids to do – magnetic blocks with animals on (sort them into "meat animals" and "scavengers"), interactive maps on screens and a bit where you could slide blocks of tree bark to try and work out how old the tree is. Eva liked making her own coat of arms:
and she chose the most positive symbols, as opposed to Roo's version which was full of weapons. She also liked the model houses, from different eras and insisted on reading all the facts in the windows and doors aloud to us.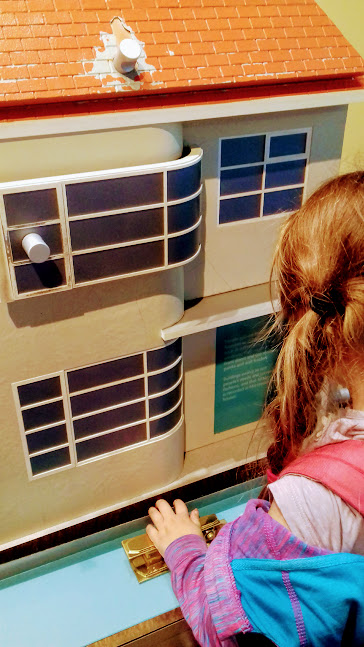 There was also a carriage from the Liverpool Overhead Railway, which we sat in while Eva very slowly read out all the stops until we reached our destination, which I seem to remember was Sandforth Sands. Ellie and I accidentally got out of the carriage too early and Eva made us get back in until we'd completed the journey. Oh yes, this girl knows how to enforce fun.
Nearby was the retro dressing up area. Meet Lucy the evacuee:
and Kenneth the schoolboy:
They're really into Narnia at the moment, so they got right into playing wartime children. Next to that was the LGBT area, where Eva equally enjoyed playing "Gay Clubbing" and having a boogie to the banging tunes next to the sparkly dresses. This one was her favourite:
Next we went up to the top floor, which had exhibits on Liverpool culture including a paid (donation £5) exhibition on John and Yoko. We didn't go into that bit because we were running out of time, but we did browse round the model of the cathedral that never was and this very sparkly suffragette with skulls on her skirt:
There was also a drawing wall, which someone had adorned with the not very fair, or truthful, words "Kate Smells":
Maybe I did. It was warm in there and we'd been walking up and down a lot of steps. Time to use one of the many toilets on offer (I like a place that doesn't skimp on toilets) and head out for some fresh air.
We had idly wondered about going on the Ferry 'cross the Mersey but the kids were getting tired and it would have been a tricky sell given they'd never heard of the song. An easier sell was to sit next to the ferry port, eat some doughnuts and chase some pigeons. Roo wanted to go on some of the rides but we managed to persuade him that we'd do that kind of thing in Southport the next day instead (spoiler: we didn't really) so we got away with a pretty cheap day out.
One thing he did manage to persuade us to do was to return to the Doggyfneria once we'd got back to Waterloo. It still wasn't exactly beach weather – and you can't swim there anyway cause the sea is too far out and there are massive ships around – but it was sunny at least: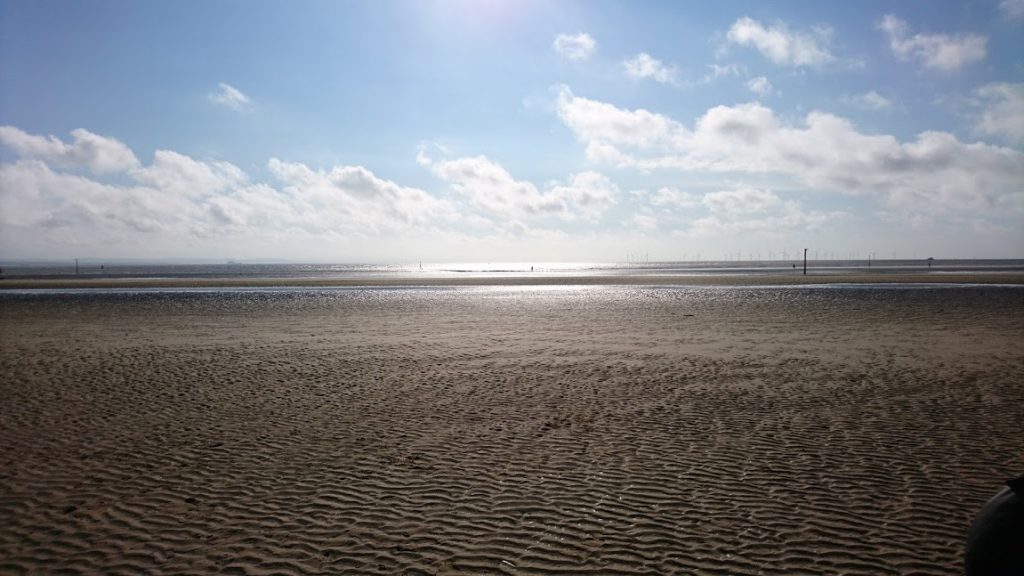 We'd bought some cheap spades along the way and they spent a joyous half hour or so excavating the feet of the iron statue:
Which eventually earned itself the privilege of wearing Nathan's most precious possession:
And I KNOW. Those nipples freak me out too.
So a fun day in the north – culture, views, sand play. The stuff of perfect holidays, even with a bit of drizzle. Right?
For more information on the Museum of Liverpool, have a look at their official website.