I feel like I may have gone into Christmas-panic mode. I've got Nathan wrapping presents and watching "Scrooged" while I down Minstrels, print out carol music and blog about Santa's grottos. I may yet go for an emergency Tesco trip tonight.
So in the spirit of Christmas panic, we fitted a soft play party, two pub trips and a Santa's grotto visit in to today. It started with Eva and I at 10am, attending her classmate's birthday at "Tumble in the Jungle" in Walthamstow. Despite threats to close it, it's still open and battling on..if you're local, I'd suggest a supportive visit there. She had a great time and ate all her party lunch but I was hungry, so when Nathan and Reuben came to meet us we went for a restorative burger at The Duke in Wood Street.
I have heard about these legendary burgers before so let me be the latest to say it – they are indeed something special. I didn't read the menu properly and was surprised when my burger was a breadcrumbed patty of brisket and mac n cheese but it was awesome.  I'm constantly astounded by the resurgence in popularity of the humble mac n cheese but seeing as it's something of a hipster staple, I'm willing to indulge in its comforting goodness. And the shine on this brioche is spectacular too:
The food was good but I wasn't totally convinced on the pub's layout. All the tables were reserved, so we squeezed on to a small one  which wasn't reserved till 5pm but there was a huge empty space where they could easily have packed a few more in. Who am I to question the hipster aesthetic though?
Eva munched through her party bag as we dined and then demanded ice cream. I wasn't feeling it right that moment so suggested we head towards the museum and maybe we'd find ice cream nearer by. So, a bus, a tube and a wizard train later we visited pub #2 – The Ledger Building, an accountancy-themed Wetherspoons right next to Museum of London Docklands. I can't complain about the lack of tables there but it too was pretty full. Still, we found one right under the TV which had an RSPCA special on (Don't look Eva! Some scenes may not be suitable for the more sensitive viewer!) and the children coloured quietly while we waited for piles of ice cream and sticky toffee pudding.
After that, it felt like it might be nap time but no, we had a Santa to visit. And this was what it was all about. The grotto was on the third floor and we followed the footprints to Scrooge and Marley's shop, then made our way through atmospheric Victorian "streets" to join the queue. I tried to convince Reuben that we'd stepped  through some kind of portal but the smartarse pointed out the electric lights. I briefly worried that if he was questioning the footprints and the time travel then this whole thing might be wasted on him. But we're OK for another year I think. He still believes.
The queue wasn't long but we had a bit of a wait. Along the way, we found a door and a spooky red cave. This is Reuben – he is the one who knocks: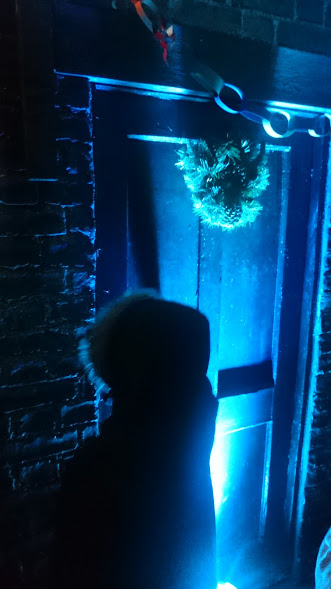 It was pretty dark in there as you can tell – I won't share the pictures where I used the flash. They're just Roo with his eyes closed. But do have a look at the one Nathan took at the top of his post. Eva does make a good oil painting doesn't she? I'd taken a photo of her earlier which I like to call "Waif on the Wharf":
To go off-topic for a while, there were some interesting things along the waterfront. We found a Big Apple, a church on a boat and a whole host of sparkly trees:
We also found our way to the museum from Poplar, which wasn't the easiest. There's a dual carriageway in one direction and a building site in the other. I spotted it pretty much by chance from the top of the stairs but if you're ever there, head to the building site side of the dual carriageway. You're welcome.
Anyway, back to the grotto and we are moving forward in the queue every time Santa's elf rings a bell. There's a woman behind us singing "Starry Night" to her kids, which was my favourite carol at school. I should have done it with choir this year.  And eventually we reached the rope, where the elf came to chat to the kids and get their names.
Then, the bell rang! It was our turn! We went into the grotto, where Santa knew who they were and seemingly knew how good they'd been this year. He asked Reuben if he'd done all his homework, to which he confidently said yes. I mean, he got an award for homework from his teacher so he's on solid ground. Then Santa asked Eva if she's been good at keeping her room tidy. Less solid ground. Still, he flicked through the book and decided they'd both been excellent. I wonder if he ever makes any different decisions.
They were given their presents and then we had a little photo shoot – first just the kids, then with us as well. We chose to buy the one without my giant face in..this is the one we went with:
After that we wondered about going to Mudlarks but the session was full and the kids were tired and so it was time to get home. They really enjoyed the experience and at least one of them was grateful for their gifts (the other one is just ungrateful). The Victorian streets gave it a real magical atmosphere and Santa seemed to have plenty of time to talk to them. There aren't many days left before Christmas but if you have time, I'd recommend booking ASAP. And make sure you organise your timed ticket to Mudlarks too. Forgive me another side note, but it's well worth checking out the East London exhibition with its own Monopoly board and a reimagined East End map with Stratford as its heart. Look what they thought was of note in E4: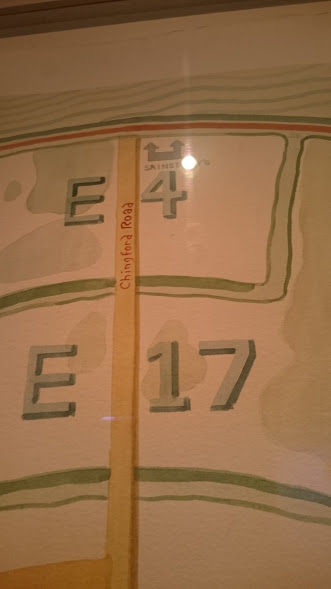 Sainsburys. Says it all. I think I'll got to Tesco now…