It's Nathan's birthday. Those of you who have seen the early morning wonders bestowed on him by our children will be surprised to learn that there was more to this day than a home made paper aeroplane (Eva) and a home made paper hat (Roo). Yes, it seems a man can desire more on his birthday than just half-arsed folded paper goods…and that's why I took him to BerkFest. Him and the half-arsed paper folders, obviously.
BerkoFest has been running for a few years, in the Hertfordshire town of Berkhamsted but this is the first time we've been. The line up looked good, if a little disjointed as each of the headliners was a slightly different generation. There was Miles Hunt and Erica Nockalls of the Wonder Stuff, beloved of early 90s indie and baggy kids. There was Britpop darlings Republica, who I guess I consider "my" era. Then there was James Walsh of Starsailor, who were more early 2000s and so a little past my ear – though I think Nathan went to see them once because a colleague was stalking a fan of the band.
It's a small festival – you can tell it's small because the parking is on the residential street just outside. There also weren't signs to the fest from the main road, which I was surprised about. But we found it just fine and it's certainly nice to have a hassle-free entry  – just park, and walk in. It was also, on this day, a particularly wet festival. I'd had an eye on the forecast all week and it never shifted off those double-raindrop clouds. So I went to the army surplus store yesterday and stocked up on family waterproofs, which I then managed to somehow present to Nathan as an extra gift this morning (a cagoule AND a paper hat – oh family, you are really spoiling me). Here's Eva, weatherproofed and ready to go:
I won't lie to you readers – we needed it. The rain did not stop all day. But the army surplus did its job and we survived the day undrenched. Hooray for forward planning!
When we got in, the Hackney Colliery Band were on the main stage and there were bubbles everywhere for the kids to chase. I would have liked to watch them but Reuben was keen to explore and only let us stay for one song before we had to go and see what was in the tent with the bunting. Turned out to be someone's 40th birthday party. Huh, wasn't expecting that. Luckily, a steward saw us looking a bit lost and shepherded us into the Hartbeeps tent just in time for the first Baby Rave of the day.
Roo might be a touch old for baby raving but the wigwam was dry and warm and we were happy to get stuck in. Plus, he has some immense moves. No-one has "Tommy Thumb Game" like the birthday boy though:
And you can guess who reayyey yuved the accessories:
It was fun and energetic, with pompoms, star jumps and singalongs. At one point we popped outside for a quick parachute game in the rain:
Then back inside for some chill out time, singing "Twinkle Twinkle Little Star".  It finished when the drumming workshop started next door – you could say it finished because the drumming workshop next door started. So we transitioned to the drumming, still clutching our purple Hartbeeps goody bags (the kids liked the ducks but sadly, I think they're probably not target market for the snacks in there. They get a bit sniffy about snacks with nutrients in).
Drumming was…fun! The guy with the whistle (from Umbanda Percussion Workshops) really loved his job. I saw him on and off all day, banging out those rhythms with the same amount of energy and enthusiasm, no matter how wet it was getting. The guy at the back – he was more restrained but he, like Baloo of the Jungle Book, was feeling the beat. I'm not sure if the neighbouring stallholders were feeling the beat too by the end of the day though.
As you'd expect, Reuben got really into the noise-making and even managed to get some of the drum patterns right when he decided to use his listening ears. Eva was a little more pathetic in his drumming but I think she enjoyed it too. As did Nathan and I!
Weirdly, it was still raining so we went to the beer tent for a coke and a mango juice, and listened to the sounds of a young man whose name I didn't catch (feel free to tweet me if it's you!). We chilled out for a bit, went in search of the loos, bought some lunch and came back to the beer tent. It was good to be out of the rain for a bit and we could still hear the main stage, where a band were doing the inevitable Bowie tribute ("All the Young Dudes"). At some point, both children tried and failed to splat a rat:
We still had an hour or so before Miles and Erica, so we dived into the SandyArt tent. The kids had done some sand art on the Isle of Wight, so they were practically pros. Reuben raced through his, filling his "Arsenal" footballer as quickly as he possibly could (don't ask why he's decided to be an Arsenal fan…we're just waiting this phase out) but Eva, characteristically, was doing hers very very slowly and carefully. First, Ariel got a black outline:
Then a green tail:
Then her features, her skin and a stripy background….but all ever so slowly. She was doing it for a full hour. An hour! Even Roo probably burned up about 20 minutes doing it, and they were both really proud of what they'd made. Here's Eva's finished product:
I think it's beautiful in its own way.
Eva was doing it for so long that I missed the start of Miles and Erica's set – although nothing is very far away at BerkoFest so actually I could hear it from the SandyArt tent. Reuben and Nathan went down to watch while I hurried Eva along, filling in Ariel's eyes ever so delicately with white sand.
But we made it to the front just at the right time. Announcing one of their "very old singles", they played "Circlesquare", whose lyrics I am very familiar with, thanks to my friend Claire scrawling them all over my A-Level English folder. We'll put aside the issue of whether it's acceptable to write song lyrics on someone else's folder without their permission (it's not) but I remain very fond of that song. Is that a smile that hangs beneath your nose?
The hits kept on coming – "Size of a Cow", "Welcome to the Cheap Seats", "Golden Green" and "Here Comes Everyone". We were seriously wet by this point, but dancing to keep warm and shouting till our voices were hoarse. Along with the band, not at them you must understand. The kids were dancing too and there was even a sort of toddler moshpit at one point. Look how happy the birthday boy was:
But also how wet. Back to the beer tent for coffees and hot chocolates but when the kids spilt their hot chocolates for the fifth time, we moved to the relative quiet of the Swan Youth Centre Tent, where the kids lounged on the floor and ate snacks. It got less quiet once headliners The Visitors came onstage but Roo liked their rocking sound (this from the boy in the Black Sabbath t-shirt) and Eva just lay in my lap. I think we were nearing exhaustion. We stayed to listen to the inevitable Bowie tribute ("Moonage Daydream") and then pulled out our final trump card – the sweetie stall.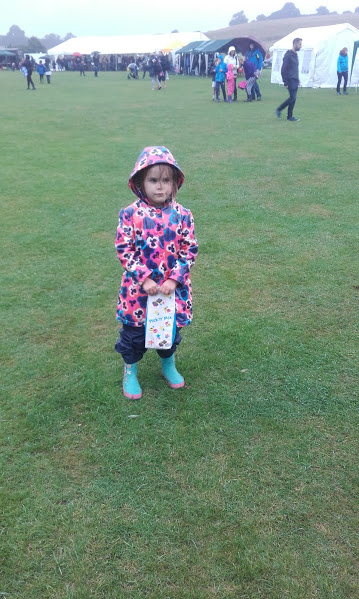 We'd already given up hope of seeing James Walsh but we both really wanted to make it through Republica's set so it seemed like a bag of pic and mix might be our only way of doing that. Sugared up and hyped up, we bounced along with Saffron as she sang old and new songs – the biggest cheer so far of the set was, predictably, "Drop Dead Gorgeous".
Saffron seemed so pleased that such a lot of people had stayed to see their set, despite the rain and cold and we were pleased that she was pleased. Of course we remember Republica! I mentioned them to a friend and she nodded nostalgically and said "Mmm…#hairgoals". You'll be pleased to know that Saffron is still a #hairgoals icon:
Towards the end, Reuben needed to go to the loo so we nipped off and returned to the opening chords of "Ready to Go". It was prophetic – we were back (from the portaloo) and we were ready to go (now that we'd heard the song we waiting for). I felt slightly bad for sneaking off before the very end of the set but hey, we didn't want to get caught up in traffic getting out.
As we drove home, the sun came out and apparently it did so too at BerkoFest, just in time for James Walsh. Maybe we should have stayed but we'd pulled out all the stops with the kids and the next stop was meltdownville. Being a parent is often about knowing qhen to quit. Plus, we saw a rainbow over the Enfield reservoir as we drove home, which was a lovely end to the day.
Happy birthday Mr LWAT and thanks for having us BerkoFest!