Last week, as I was writing a hard-hitting piece on my cuddly local MP, I made a promise on my Facebook page. I promised that, before long, I'd move on from the political agitation and serve up a more traditional slice of LWAT parks-and-waterslides kinda stuff. So, here it is. It actually follows directly on from my chat with IDS –  after he terminated our conversation, Eva and I walked off purposefully. Problem was, we had nowhere that we were walking to.
So I stopped, a little way out of sight and asked Eva where she wanted to go. It was a beautiful sunny day so we agreed a park could be a good destination. I checked Google Maps and we weren't far from Pimp Hall Park, which was meant to be nice and somewhere I'd never been to before. True, it happened to be in the opposite direction to the one we'd walked off in so it meant we had to sneak back past IDS in a less assertive way than we'd walked off. When political agitation gets awkward, hey?
But it was worth it and also worth the slog up the hill in the searing, 8 degree heat. From the top, you get spectacular views over Chingford…true, it's only Chingford but a view is a view: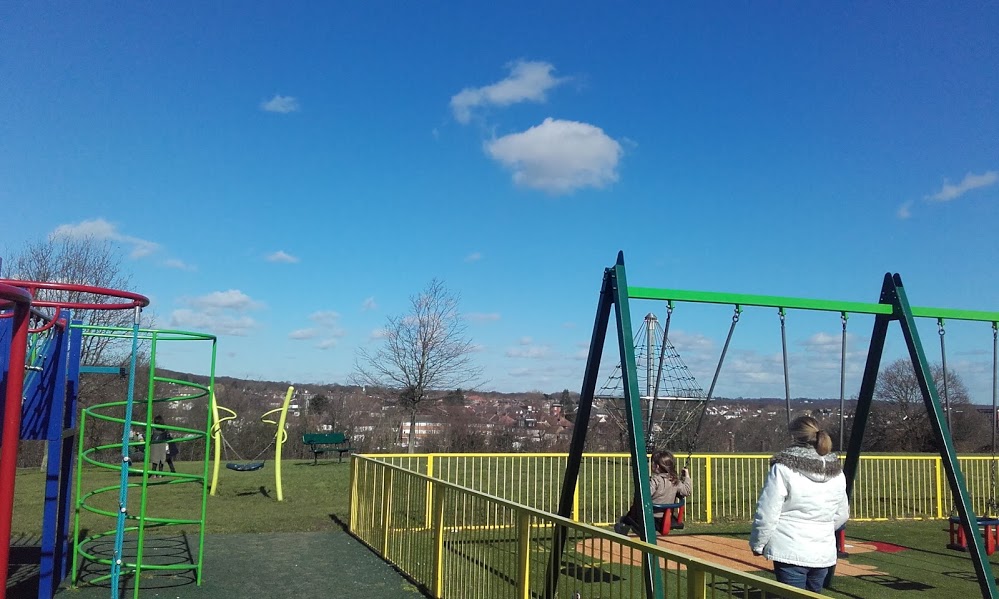 I think some of the play area has been redone lately, because it has that fake grass stuff that seems popular with playground makers recently. And little mounds and things to walk on:
Don't ask why Eva had her coat on backwards. She had it like that all the way through the IDS chat too…kudos to him for not mentioning it.
On the subject of top Tories, I thought I'd stumbled upon one of Cameron's exes for a minute:
I'm not really sure how to move on from that gag so I'll tell you about Eva's time on the swing tyre, where she befriended another nearly 4-year-old and they talked about princess movies. It's a pity I have no idea who the other small girl is so we're unlikely to take her up on her invitation to watch "Brave" at her house.
And then there were roundabouts:
and climbing frames:
and then a call from the mouse man which saw us jumping on the 212 and heading home. So, where do the waterslides come into this? Well, that was the week afterwards when we finally made it to that most mystical part of the East End – the Leyton Leisure Lagoon.
Except it's not called that anymore. It is now, rather boringly, called Leyton Leisure Centre. But it does have an exciting water-play area that's perfect for toddlers plus. It also involves parents wandering around in swimwear through ankle-deep water so, weirdly, I didn't take any photos of us there. Also, I don't think you're allowed phones in the pool. So, I've filched this image from www.isgplc.com in order to show you the excitingness of it all:
So, there's a main pool, a smaller pool and a teaching pool alongside the water play area. Which is good, because it can get a bit cold if you're not immersed in the water. I'd brought along a real live toddler to test it out with, and a baby too so I'm pleased to report we had the full preschool range. Boby, who is now the toddler, thought the splash area was great fun and enjoyed going down all the slides with Bob. I think the thing she liked best, though, was sitting in the basin of the water trough which, Bob pointed out, she probably could have done at home. BabyR, who is a genuine baby, spent her time in the deeper water in her inflatable seat because of the whole getting cold thing. Eva, who's scared of most things, was scared of aspects of this area, including the snake/dragon, the slides, the water falling from overheard….but she still seemed to enjoy herself. The red and yellow slides in the picture above and really not very high – maybe a foot off the ground  – so she was OK with them. The blue one was bigger and you splash down into a pool of water at the bottom so she wasn't so sure. But I think Roo would enjoy it.
I've never really been to a pool like it, and it was a fun thing to do with even my scaredy-cat child. It could do with the air being a tad warmer but I imagine if it was busier like it would be on a weekend, then it'd feel warmer. The changing facilities were good, the lockers spacious and all pretty clean so I'd definitely recommend it. And just up the road is a huge Greggs for a warming pasty afterwards.
So, there you go – two genuine Places to Go With Toddlers and one of them is even in undisputed London territory. Don't worry folks, I haven't lost the thread just yet…