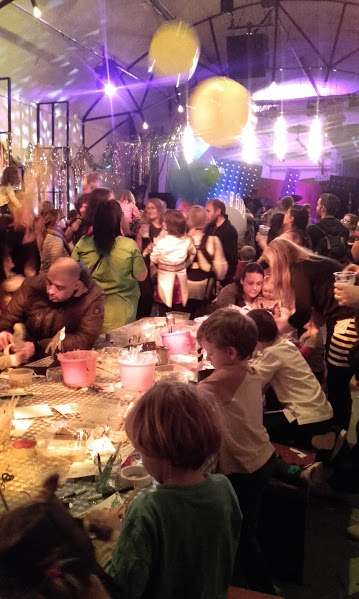 I hate to miss a party but we very nearly missed this one. It was just one of those days. Fretful children and parents nearly scuppered the whole party plan, which would have been a shame seeing as Eva had such a great outfit to fit with the "Out of this World" theme:
I was aiming for Bjork but landed somewhere near Twist  from "Spaced". It's all good. Her new flashing bunny trainers completed the 90s look and also made her easy to follow around the vaults where BFLF were setting up camp for the day. But how to find the vaults? Tricky. I knew they were under Waterloo station somewhere and I had a brief mental muddle between Lower Marsh and Lower Ground. Lower Marsh was the badger we eventually went with, and took Leake Street off to the right to find this entrance:
This leads you through the graffiti tunnels to the Waterloo Vaults. On the way, we saw this eye-opening piece of Marvel artwork:
I saw eye-opening because moments before that Reuben had been walking along with his eyes closed. Just like Eva a few minutes before that. See what I mean about it being one of those days?
But we got there. Late and frazzled but there. We set off to explore and there were many, many rooms to explore. It was like the biggest BFLF ever…and I'm so glad we made it. First stop was The Cavern:
In this room, there was a play area and activities run by the Museum of London (Make Your Own Mythical Beast). Eva and I ducked in and out quite quickly, but Roo and Nathan stayed for ages, drawing pictures and playing on the Korg synthesizers. Meanwhile, we went exploring.
The first room we went into was quite dark and had a huge drawing floor, with kids happily graffiting on it. Something in there freaked Eva out though, and she ran screaming out. I didn't work out exactly what spooked her but she muttered something about "I didn't know it was a person!"
So we tried another room. This one was more to her liking. A camera and projector meant you could dance in front of it and every move of your arm filled the screen with rainbows. Oh yes, egotistical girl liked this one a lot:
Next, I wanted to find the main room and have a bit of a rave – after all, if we didn't come to party then why did we come here?
Well, Eva came to craft:
She made a glittery rocket and a headband with straw attached. Nathan and Roo caught up with us and Nathan went to the bar. Presenting, a Dad's view of BFLF:
Eva and I did manage a bit of a dance when the bubble machines were on – we had a jump around to "Jump Around" – but mainly she and Reuben both wanted to draw at the table. And so did Nathan:

We were running out of time and still so much to explore! We stopped at the playdough table briefly before Eva found yet another play area. This one had swings in it!
And a ball pool! And tunnels! So much to do! Including a dress up box where we could get a free and rather beautiful photo printed of Eva in a Venetian mask. Here's the photoshoot:
And here's the finished product (well, a fuzzy photo-of-a-photo):
Gorgeous!
The party was coming to a close and I wished I was on the dancefloor as they played "Starman". But Eva was busy on the swing, so I just sang along to myself, waving an imaginary candle in the air. It was time to go, just as Nathan and Roo discovered the swing room. So, dragging the boy away from the swings, we went out into the tunnels and emerged by County Hall, quite surprised that it was daylight. For future reference, this is probably an easier way to get to the vaults:
As it was still early on, we had a wander along the South Bank and Roo excitedly pointed out the London Eye. We pointed out, once again, that he was born just next to the London Eye and he didn't believe us. Gosh darn, these kids are getting suburbanized.
Nathan fancied a burrito, so we ignored Roo's requests for McDonalds and went for lunch at Giraffe instead. Where the usual swift and friendly service did indeed bring Nathan a burrito:
And I thought it was a lovely touch to have blankets on the seats in the outdoor seating area:
Reuben still wanted a Happy Meal. Can't win em all…
Just one last treat for the day and that was the trip back towards Liverpool Street and the land of Nearly Essex via the shortest line on the tube network. Believe it or not, we had never been from Waterloo to City this way before and it was dead exciting for all of us:
So ended another fun trip to BFLF. As ever, I wish I'd had more time to explore all the different rooms – there was so much we didn't even find, including theatre and a dance workshop, but that was out own fault for being so late. It was a great party, in a very atmospheric and unusual venue and not lacking in all the usual BFLF touches – glitter cannons, parachute dances, giant balloons, inflatable aliens, bubbles. Can't wait to see what they come up with next – 3rd birthday must be coming up in July, no? See you then!