What "keywords" do you look for in the description of a soft play? "Spacious"? "Natural Light"? "Coffee on tap"? How about "sinister"? That was the description of The Idol soft play in Barking, by its Turner-nominated designer Marvin Gaye Chetwynd.  To put it in context, she called the play area "a bit more bling and glam than usual, and a bit sinister, too". So only a bit sinister. That's alright then. If the juxtaposition of soft play and gothic blackness wasn't enough for you to get your head round, there's that slightly random location. Barking, centre of high art? Who'd have thought it? But my Barking mole, who accompanied us on this trip, tells me that there's quite a blossoming art scene developing around there, and there's certainly a bit of renovation in the town centre. Have a look at the new police station:
And part of the redevelopment is the £14m new leisure centre, the Abbey Leisure Centre, which is where The Idol resides.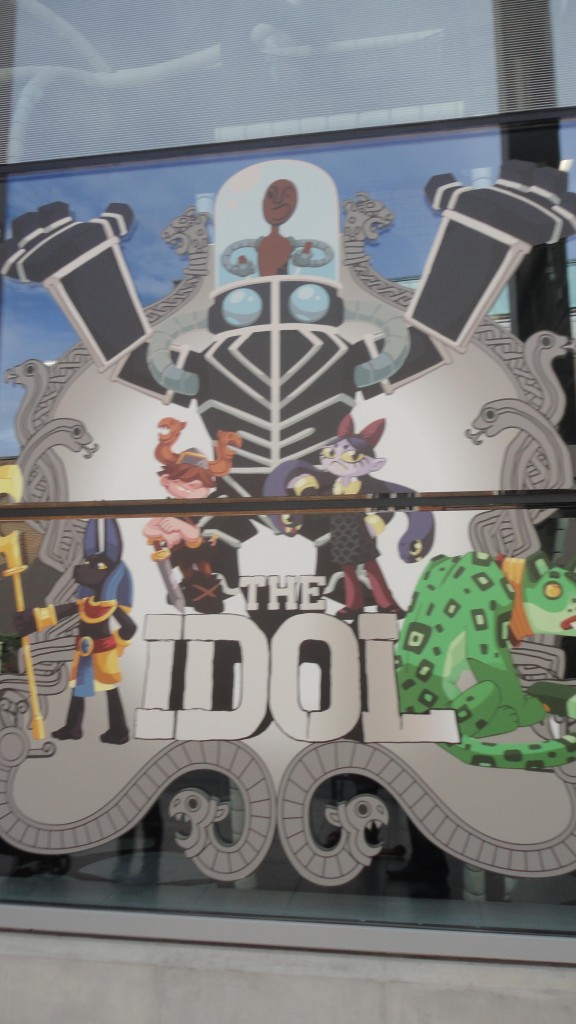 You can't really tell once you're inside, but the structure is in the shape of a giant cyborg, based on the Dagenham Idol, who's a prehistoric wooden statue. Confused? You will be. It's art. But it's also a fully functioning soft play, albeit one in striking shades of black, white and grey rather than the usual primary colours. Bunny'sMummy had had the foresight to dress in matching monochrome, something I nearly did myself (but my black and white stripy top was in the wash). We would have looked totally cool if we'd been matching. She even had a monchrome coffee, to demonstrate her commitment to the theme.
I also tried to dress Eva in black and white but she resisted. I think the resulting outfit was respectably artistic though:
Ignore the socks. And let's not even mention Reuben, whose neon yellow t-shirt totally clashed. But so did all the other kids. In fact the presence of multi-coloured-dressed children romping around it did rather detract from the Tim Burton look of the whole thing. The soundtrack – Eminem and Mylo – did its best to install a menacing vibe but it's never going to be quite as artistic with small people all over it. The bright pink and orange signs with the Idol characters on them also didn't quite go. But then, I don't understand art. I really don't
Essentials then – it's about a fiver to get in and you're given 2 hours' play. There's a cafe, which is not unreasonably priced and a selection of kids' box meals, which come super-hot (beware!). There are some adult options too, but not loads of sandwich choice when we went. There's space to park buggies but nowhere to put shoes (this is fast becoming a pet peeve of mine). And it's black, Very, very black. You might imagine the Velvet Underground and Nico hanging out in the on these black steps:
…or you may just be reminded of that Batman line from "The Lego Movie" about only working in black, or very dark grey.  But there's a splash of light too, in the pure whiteness of the ballpool. I can't be the only one wondering how long those balls will stay white with ketchuppy toddlers about. They also had one of the ball-hovering things that the kids love so much:
In the centre of the frame, there's a huge drop slide, made all the more terrifying for the way it plunges you into black oblivion. The step up to it is sealed off unless there's a staff member there, as I think it's for over 6s only. Roo probably could have got onto it but he was a bit scared, as was I.
It's pretty fun and it wasn't too busy when we went. There did seem to only be one or two staff members doing everything between them (admission, taking food orders, cooking, serving!) so it could probably do with a bit more managing. But it's definitely a valuable addition to Barking. And we found a street piano on the way home, which is always a bonus:
And more monochrome:
Seems that Barking is getting ever more stylish. Just make sure you dress to match…