It's been a while since our last LWAT adventure – a wet and work-busy January hasn't been the ideal time for doing exciting things, but with an end in sight to the virtual pile of work, it was time to get out and see what there was to see.
Which started yesterday at the Horniman Museum with Maria and the family. It was busy, with a storytelling session in the pavilion but we weren't going to that, so we managed to stay ahead of the crowds. It did involve eating lunch at 11:15, but I saw the look of the cafe at 12:30 and it wasn't pretty. Even less pretty was the state of Eva after she had sat in a pile of mud near the outdoor instruments. Then she jumped in a muddy puddle, soaking her little pink shoes and tights. I blame Peppa Pig, but it's my fault too. As Mummy Pig says, you must always wear your boots when you jump in puddles and Eva's boots were at home. I guess I'd dressed her for indoors but there's a lot of outdoor space at the Horniman. Lesson learned. On the upside, she made friends with some taxidermed owls (above).
Today, it was time to catch up with C'sMum, C and R at the Royal Festival Hall. Again, it was damp out. And eerily quiet inside. We were there at 10, and were practically the only people there, so free to roam around the primary-coloured chairs and jump on the big green cushion. And I really mean "we" – I joined Reuben on the floor and it was pretty comfy.
Then Eva decided to pounce on us too, and turned Roo into a tiger
But the favourite toy of all the children were some little plastic stool things that they pushed around and called "rhino horns".  I don't know what they were actually for, but sometimes they were for sitting on:

And sometimes for sitting in:
But mainly for pushing around, in an overexcited way and shouting "charge!" There may have been one person there who was trying to do some work. but he knew the risks when he sat next to the brightly coloured chairs and tables. It's not like there are no other bits of the Royal Festival Hall to work in. By this time, the ballroom was filling up with other small children of all sizes, and things were getting a bit overwhelming for R and Eva, who needed a nap. So, we went outside to play in the Earth house that's left over from the Festival of the World but is now inexplicably pink:
All the other bits are now pink as well, and the little caves and giant snake provided a good few minutes' entertainment for the 4-year-olds, even if the  climbing fun meant that the toddlers were clambouring to get out of their buggies and join in, instead of sleeping. Further walking was required.
Down on the South Bank itself, we saw another distraction that amused the older ones and kept the toddlers awake. I'm not normally interested in the street art along there – it's all a bit touristy really – but this man had a power that no-one could resist. The power to blow enormous bubbles!
Some of them were so huge that you felt like you were in a shower if one popped above your head (ask Eva just how that feels). I thought Reuben was going to dive into the river in pursuit of one but luckily we kept hold of all the children we'd come with. It was a pretty impressive show though.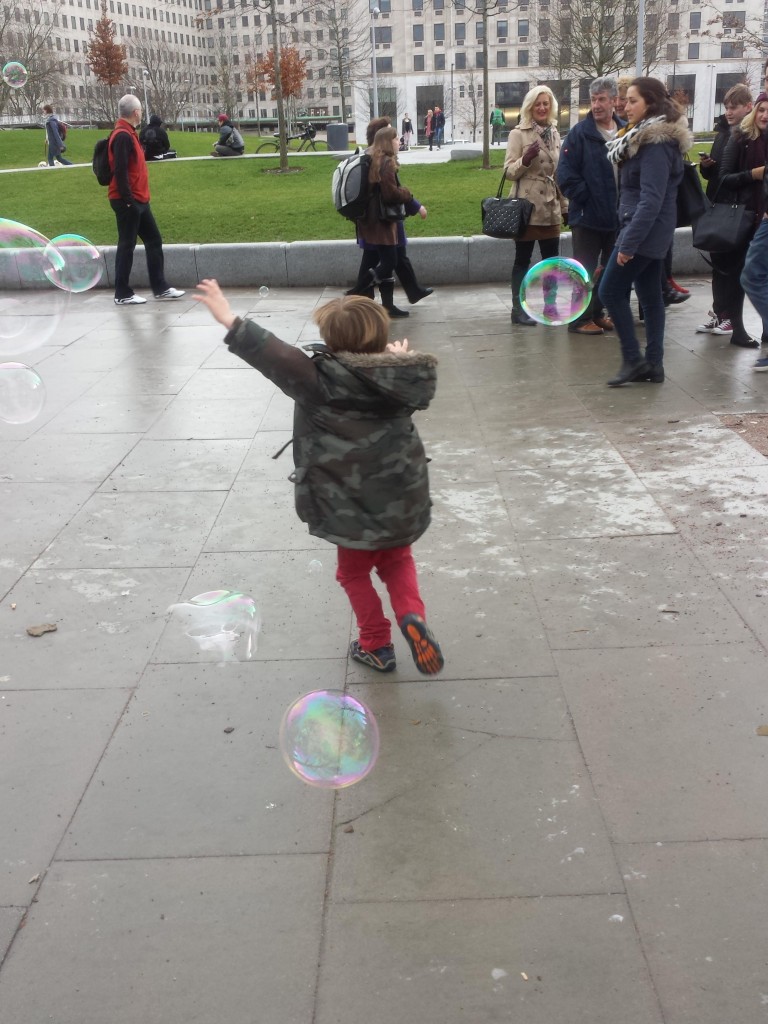 With the toddlers still stubbornly refusing to nap, we gave in and took them to the playground which still only has two swings, but now has some new bouncy-chicken things which are perfect toddler size. For the big boys though, it's all about the assault course:
And then Reuben ran out of the park after a pigeon and didn't quite see why this was a Bad Idea. It was time for the change of shift. Daddies, tag in…!