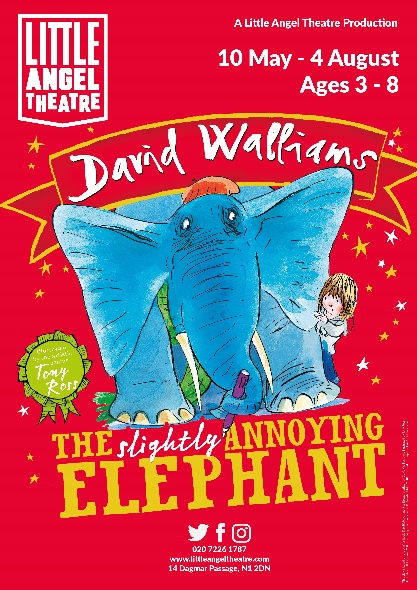 Eva and I have been to a few Little Angel productions now and always enjoyed them – even the one we both cried happy tears through– but up till yesterday I'd never taken Roo, thinking that at nearly a decade old he might be too big for puppet shoes. But yesterday's was a David Walliams story and Reuben is a big DW fan so I thought I'd take both. I was teaching English at church in Canonbury first, so it seemed like it would be all straightforward as we'd already be in the area. However, Eva got a party invite a few weeks ago and that was in North Chingford so that threw a bit of a spanner in the works.
That's why I went to Islington to teach English with just my boy in tow, who wasn't as keen on helping as my girl normally is. He liked the role play and the sweets tho. Then we went for lunch at our favourite Islington cafe – appropriately called "My Favourite Cafe" and, with an hour to kill before the show, headed to Astey's Row playground to a runaround.
Alas! The playground is being redeveloped so we couldn't go in. Any idea what these multi-coloured boulders might become?
In lieu of slides and stuff, we hung out in the rock garden where he climbed a few trees and clambered over some boulders. Then it was time to meet Eva and Nathan just outside the taxidermy shop and head to Little Angel.
Except Nathan didn't fancy hanging around and went home to follow Eva's instruction to recharge his social batteries (she read it off his t-shirt…she's not that insightful). So it was just me and the kids wandering up Cross Street, which is surprisingly posh. It's one of those streets that would appear in Time Out as a "hidden treasure". So hidden that despite going to several meetings at Cross Street Baptist, I have never noticed the posh bit before. But it really is. I mean, it has whole shop dedicated to Farrow and Ball paint. I am not making this up.
It was just off this street that we found the wisteria-covered Dagmar Passage that led to Little Angel Theatre. It was a lot easier than finding it from the Upper Street side. Settling into our seats at the theatre, we spotted a celeb in the audience. I won't invade his privacy by saying who it was, but it struck me that the last thing I'd watched him in had a very strikingly similar plot to "The Slightly Annoying Elephant". In short, uninvited and demanding house guests.
But obviously, the house guest in question here was an elephant. A very large elephant. I think we'd all expected the elephant to be hand-puppet size but instead, the puppeteer was dwarfed by the size of it especially the very large blue bottom that made Eva howl with laughter every time she saw it.
The plot is fairly simple – a kid called Sam adopts an elephant at the zoo but the paperwork is doctored so that, in actual fact, he's agreed to the elephant coming to live at his house. And all the elephant's friends. The elephant is demanding and likes to bellow "silly booooy" at him as Sam gradually loses patience. There are a few songs worked into the show but essentially, it's a physical comedy sketch between a boy and an elephant. And the kids loved it.
There were a few easy wins with my children – an extended toilet gag near the beginning, which always plays well – and towards the end there was a sharp change in direction when ten more elephants appeared, which kept the momentum up and delighted the audience with the sheer number of elephant heads that kept coming through the door. Eva's favourite was the baby elephant, obviously.
It's a bouncy, fast-paced show with a brightly coloured set and fun use of flashbacks as the stage transformed into a zoo and an aeroplane (how far was this zoo that the elephant had to get a plane back from it?) There's no doubt that the elephant is more than just slightly annoying and it's quite refreshing that the expected resolution – boy and elephant reconcile their differences – never comes. Everything just escalates and escalates again, with the chaos building to a elephantine crescendo. With extra crash.
So, the show is aimed at 3-8 year olds but my nearly 10-year-old enjoyed it just fine and so did other kids of a similar age in the audience. It's 45 minutes so a 3-year-old would probably be fine to sit through it but any younger might get a little restless or a little terrified by the loud noises. It definitely hit the mark for a 7-year-old Eva though. If you have a similarly aged child who likes pachyderms and bottom jokes, then the show is on till 4th August – for tickets and more information, click here.
Disclaimer: I received press tickets in exchange for a review. All opinions remain honest and my own.