I mentioned in my last post that the Science Museum are running a very exciting exhibition over the summer, called "Power Up", featuring 40 years' worth of vintage video games.  Well, we got a sneak peek at it last night and yes, I did put a gloating status on Facebook specifically designed to make one particular person jealous. You're welcome, Wiley.
But first, a little Piccadilly Line cabaret for all those rush hour commuters. We'd caught the Victoria Line down to Finsbury Park but very annoyingly, I'd stood up to make the change and realised I had chewing gum on my trousers. Not an awesome look for a press night. And Nathan had got the kids out of the house without me, was travelling light and so didn't even bring any wet wipes with him. I faffed around a little with tissues before I realised that I had a floor length sundress in my bag that I'd not changed into yet because…well…it wasn't that sunny. So as we passed through the unpopular stations of Caledonian Road and Arsenal, I passed from workwear into sundress using a technique I'll describe as "clever layering meets shoulder dislocation". All done by the time the train filled up at Kings Cross, and I think we can all be grateful for that.
An inauspicious start then, but things were about to look up. We found the right exit from the South Kensington labyrinth, and emerged at the door of the Science Museum  with both the kids we'd left Walthamstow with. The "Power Up" exhibition is on the first floor, so you need to go straight ahead after security and take the lift or the stairs. It's quite well signposted:
It's a chargeable exhibit, as most of the temp exhibitions are, so make sure you leave plenty of time to make the most of it. Because you could spend literally weeks in there. 160 consoles, each loaded with a different game – it's amazing I ever got Nathan and Reuben out of there.
I lost them pretty much as soon as I got in. There was a fighting game involving some Marvel characters, which I believe was called "Marvel Super Heroes vs Street Fighter" and the Marvel fanboys got sucked right in:
The girl was not quite so convinced, so she and I went for a wander. It didn't take her long to find a bowl of jellybeans, which I believe might have been the highlights of her evening. It kept refilling itself! If only I played Candy Crush, I would have some cool gaming in-joke to make here.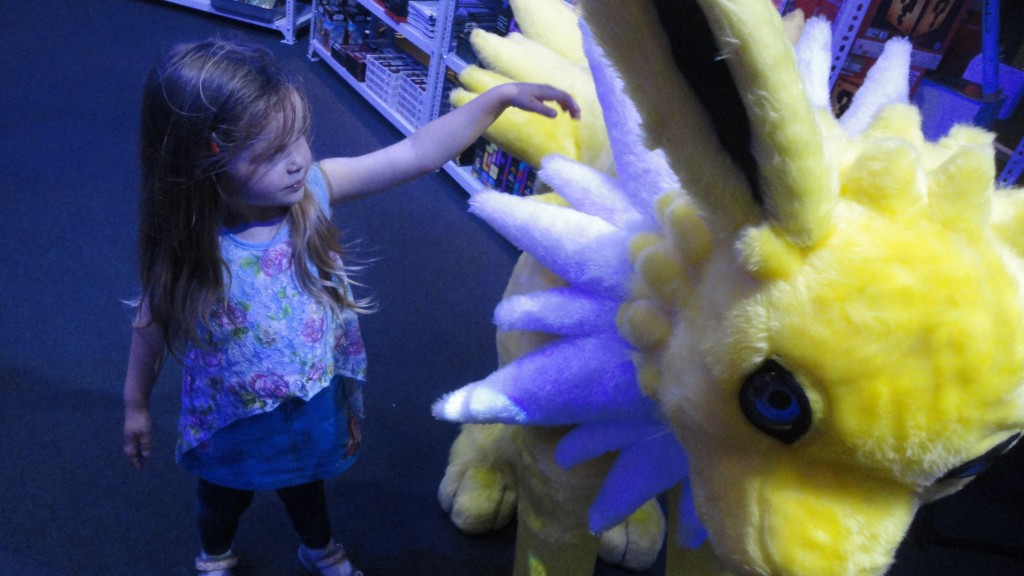 You see, I'm not really a gamer. I struggled to get the Mario game on the Wii working for her to play, and the Wii is a console we actually own. I was later chatting to a guy from the Press Association and when I said he was a blogger, he asked if I blogged on gaming. Considering I was, at the time, failing to load the Dora the Explorer game on a different Wii console, I think the answer was fairly obvious. Don't worry though, I found something to Eva's tastes:
And we actually managed to play it! True, it was mainly just two princesses running up and down staircases and occasionally changing the design of their dresses but she has rock-bottom expectations when it comes to video games, so she was happy.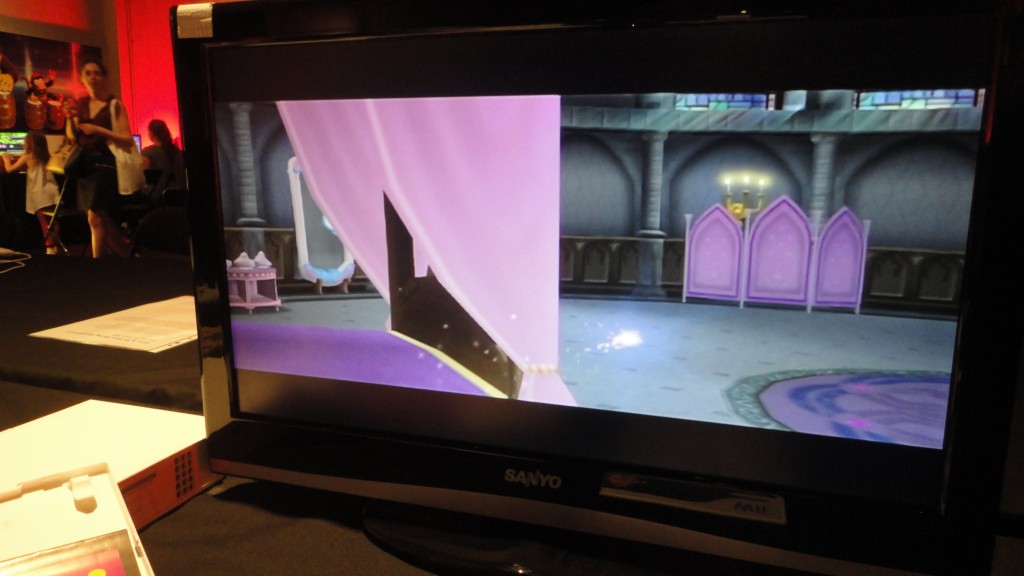 As you may have discerned, I made up for my own failings by bringing along with me two slightly more proficient gamers. All those Saturday X Box sessions have prepared Roo well for an occasion like this and he and Nathan slipped seamlessly from Playstation to 16-player Halo and PC- Minecraft. Well, Nathan didn't really know how to do the last one and was bitterly watching a young person behind us effortlessly build a house, complete with pot plant, while Reuben was stuck in a mine:
But they had a LOT of fun and the beer and pizza meant that Nathan was tempted to move in. It was a hot night though, and eventually even he could be persuaded to go for some fresh air. Just look at it though:
It's the perfect Daddy-creche and it's thoughtful of the Science Museum to provide it. I did earn some gaming kudos with a slick performance on Sonic 2 (I passed the level!) but, as the aforementioned Wiley reminded me, I never could get past the Marble Zone…
"Power Up" is on until 7th August – see here for more information.