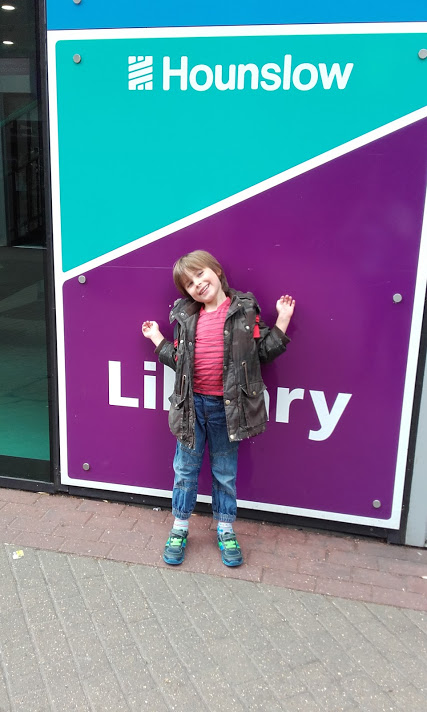 It's been an intense couple of trips of out-and-aboutness, so forgive me if this post is mainly made up of random letters, as my head hits the keyboard, in a kind of  isndf\NRHB\FHBR\HZZZZZZZZZZZZZZZZZZZZ way.
Yesterday was a particularly epic effort. Zone 4 in North East London to Zone 6 in the South West was always going to be a tough call, especially with a nursery pick up to get back for. So, what could make this even more complicated? A tube strike, you say? Why, thank you. I'll take that challenge.
Cause I love a challenge, as you know. This was part of my bigger London Borough challenge, but also a good opportunity to catch up with a friend. And that's how I justified taking my boy on a rush-hour, strike-day London Overground train. Check out all the personal space he didn't have:
That's my foot but not my leg. Mmm, cosy.
It was in this kinda snuggliness that we made our way to Liverpool Street. In a moment of spontaneous madness, I started wondering about hopping off at Hackney Downs and getting the Overground from Hackney Central round to Richmond. But, as I was frantically googling this as we were pulling into Hackney Downs, it seemed like an ill-conceived plan. We'd stay where we were.
My biggest concern was getting from Liverpool St to Waterloo. It was a 2 mile walk – a bit far for 6-year-old legs, or even 34-year-old legs. My plan was to walk to London Bridge and get the Thames Clipper to the the London Eye but first, we'd check out exactly how bad these bus queues were.
I was expecting the worst. When you see pictures of the tube strike in the Metro, it invariably shows hordes of city folk trying to cram onto a bus at Liverpool St. And sure enough, outside KFC on Bishopsgate, there was a huge crowd and the 26 parked up, letting a trickle of people on. We joined the back of the mob, not feeling optimistic…but then I noticed that the people getting on weren't the same people as the ones queuing. People just wandered up and got on. I asked a few people in front of me if they wanted the 26 and they all said no, so Roo and I wandered on too. I still have no idea what any of them were actually waiting for. The 78? Is Peckham a hot commuters' destination nowadays?
Anyway, we were on the bus we needed, and Roo had a seat of sorts…in the luggage rack. Still, I told him not to complain and after about 20minutes, we both had actual seats to call our own. It was a slow bus, but I'd allowed an hour for the transfer so it was fine. We got to Waterloo with time to spare before our train. Feeling smug, I bought a coffee and a smoothie for Roo. One of the energising ones with the black label. Remember that –  it might come in useful later.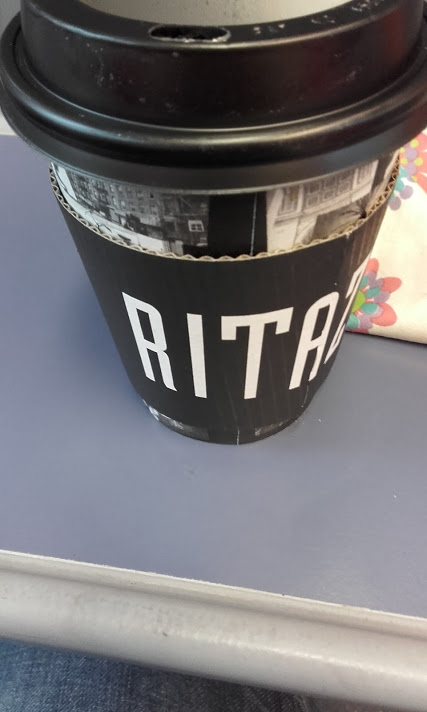 While we waited for a platform, we watched a giant screen that was showing, among other things, the Fantastic Four trailer. Roo squeals every time he sees a bus with the poster on, so this was a treat for him:
Easily pleased, my boy. We settled down on the train for the 30-minute journey to Feltham and again felt smug at how we'd defied the strike to cross pretty much the entirety of London. Well, I was feeling smug. Reuben was thinking about superheroes.
We made such good time that we hit Feltham at 10:30, before our friends were ready to meet us. So we took a wander around the shopping centre, browsing the toys in The Works and avoiding the credit management people who seemed friendly but overly interested in my financial history.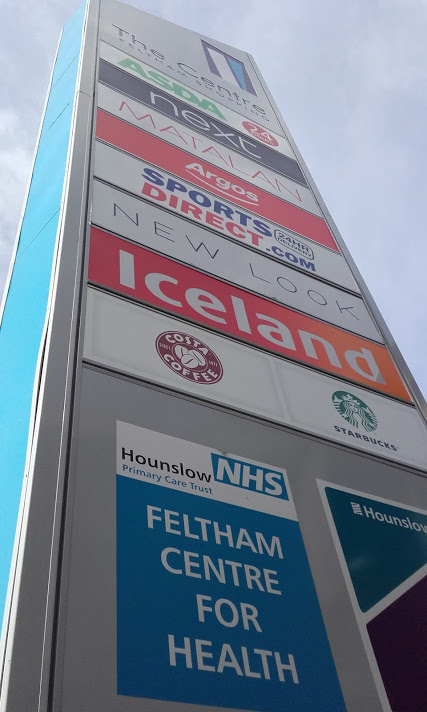 Then we crossed the road to have a look at the duck pond. But on the way, we found this unexpected treat:
November 1991! I remember it so well…the first time I ever cried about a celebrity dying. And possibly the last. Oh Freddie. Too much love will kill you, just as sure as none at all.
Roo, as ever, was uninterested in rock history. Oh look, a duck.
And another duck! This one tried to steal Roo's Haribo cake. Though its baby did not, as the boy alleges, try to drink from his flask.
It's a bit of a random piece of green, right next to the shopping centre and a busy road, but it's a nice place to hang out, with some cool mosaic benches:
And it gave us time to eat our cakes. Roo was feeling fine at this point. Remember that.
We met our friends and started making plans for the day. The original idea was to visit the Bedfont Lakes Country Park, right on the western edge of the Borough of Hounslow, but the sky was looking threateningly grey. As it began to make good on those threats, we rapidly recalculated. There was a soft play a few minutes away and that would give Roo a chance for a run about. Baby H was due a sleep and we could have a gossip. It all worked pretty smoothly.
The soft play is called Little Pins, and it's in the same building as the bowling alley at Leisure West. It's not hugely signposted, so it might not be obvious that it's there. But now you know, should you ever have a child to entertain on a rainy day in Feltham. It was £4 for an hour and, for the most part, I could just keep a vague eye on Roo while having a catch up. Lovely.
By now, we were getting hungry and there was a Pizza Hut just over the car park. So, it seemed like an obvious choice – who doesn't love the bargainous buffet and refillable drink, especially when they have one of those fancy new Pepsi machines that does loads of different flavours (You want 7UP Light Cherry? You got it!). Roo had a huge milkshake that he downed in seconds:
We ate some pizza and then, out of nowhere, Roo said he needed to be sick.
Huh. That's not good.
He wasn't sick – he just said he felt funny, went to the loo a few times, did some colouring and then perked up enough to eat dessert.
Then he said he felt sick again. And again he wasn't.
This was all very odd, until I remembered the smoothie he'd had on the train. I fished it out of his rucksack, took a look at the ingredients and found a few things in there – guarana, flax seeds – that might possibly be playing havoc with his insides. I feel kinda responsible – I'd briefly wondered if it was suitable for him, but there wasn't much else to choose from, given he doesn't like orange juice. So we'd grabbed that with the coffee and hoped for the best. Don't do what I did. Avoid the black label smoothies for kids. They're not as innocent as they seem.
With all these gastric shenanigans going on, you'd think I would have whipped him straight back home for some rest and TLC. But home was a long way away, and the stale air and rocking motion of a train didn't seem awesome for a nauseous boy. So, we went to the park. Feltham Park, to be exact. And once there, he was fine again. I think the episode had passed. Besides, the sun was out.
Feltham Park is a pretty big green area with a new and extensive playground. There is stuff for bigger kids, and a toddler area segregated by bushes:
There were some touches I really liked, like this weather station, in colourful 60s colours:
I also loved that it had a weather for what today was like:
Partly sunny. How very British and understated and also, how very true.
There were other interactive boards, where you could sort things by number or learn about sea creatures, and obviosuly there were climbing frames, swings for all sizes and slides. Plus a zipwire that Roo fell off and bruised his bottom.
Oh, and here's a trophy to add to my Bins of the Boroughs collection:
We had a fun play, but it was time to get back if we wanted to avoid the rush hour. The train back to Waterloo was swift and there were none of the…internal problems I had anticipated. The only havoc played was the one in the Marvel top trumps set (rubbish card, by the way…but I cared not as I had Wolverine).
The reverse journey to Liverpool Street on the 26 was every bit as slow and the journey there. By the time we'd be staring at St Paul's for halfa superhero alphabet, I decided we should get off and walk. It was a good plan, and we we found a pretty double helix en route:
We also found the Sugar Building, which excited us for – I suspect – different reasons. I have a weak spot for "The Apprentice", Reuben  likes structures made out of stuff you can eat. Everyone's a winner.
I get lost and disorientated in the Square Mile, so I had looked at Google Maps before we started walking and plotted a course to Liverpool St. Straight up, past St Paul's tube, turn right onto London Wall at the Museum of London, all simple from there. It would work fine as long as I didn't get distracted. Ooh, flowers:
Yes, we meandered off down an interesting looking alleyway – I thought it would lead to Postman's Park but it clearly didn't. But we did see some very old bits of wall, and managed to get back onto the newer Wall with relative ease….and then Liverpool St was a mere toddle away.
Basically, don't let the Striking Man bring you down. Anything is possible, and even days out in the far reaches of Hounslow can be done with a little teeth-gritting. It was a fun day, and I have no regrets bar the smoothie. Let's see how I fare against the might of the Victoria Line closure next…