Do you ever feel like the world is out to get you? Not in a gloomy "life sucks" kinda way but more like there's a mischievous life-pixie out to confuse and disorientate you and generally just ikea it up a little. That's what my morning felt like.
Join me, if you will, in the little concourse between platforms 1-2 and 3-4 at London Bridge. Since the renovations started at the station it's all been a bit of a confusing mess. One time when I was there, I resorted to using National Rail Enquiries on my phone because there was no other way to find out what I needed to know. The main problem is that right at the start, you need to pick a platform. Are you 1-6 or 8-15? You don't know? Check the screens. The screens don't know? Ah, then you'll need to guess.
I guessed. There was a train going to Forest Hill in ten minutes or so but neither the screens nor my amazing powers of clairvoyance were telling me where it might go from. So I picked my old faithful 1-6 …purveyors of trains to New Cross, Deptford, Lee and Greenwich. Surely Forest Hill would be in that kinda direction too?
Well, I can't say I wasn't nervous. I hung around that little concourse waiting for the platform number to appear until I finally decided to give in and ask. Turns out my guess was wrong…It had been a bold roll of the SE London dice but like all gambles, it came with a risk…specifically the risk that you might have to charm your way back through the ticket barriers, get back outside, and then through another set of barriers in search of platform 7. Of course, if you've been paying attention you'll have noticed a fatal flaw in these plans. There were two options – 1-6 or 8-15. I suspect that platform 7 was one of those rail-staff in jokes, like sending the work experience kid out for tartan paint.
So, gambling time again and this time I went with the other set of ticket barriers – the 8-15 side. And then onto…Where? There was still no platform number and I had less minutes left than there are jokes in Reuben's repetoire. Time to ask again.  The next guard narrowed it down to two platforms for me, which was a step in the right direction but still not the ideal answer I was looking for, especially as the board had told that whichever platform it was, I'd have to be on the far end of it. I rolled another virtual dice (note to self:pack real dice next time) and started down platform 10, only to hear with seconds to spare that I was wrong again. 11 was the number I needed all along. After all that drama (note to self:need some actual drama in the blog at some point) you'd hope getting out at Forest Hill would be easy enough, wouldn't you? But no, the life-pixie was at it again.
I'll make this short and simple for you, to give you the benefit of my trial and error. Platform 1 has a step free exit. The Horniman is on the platform 1 side.  You can get there from platform 2 by using the lifts. You can skip out the confused signs, the aimless wandering and the 3 different trips in one lift. Skip all that, skip out the steep walk up Forest Mountain and go straight to the Horniman. If you like, you can keep in the bit where I sat at a street piano and calmed myself with a small burst of "Fur Elise". That was fun.
So we got there. And only ten minutes late for meeting Maria and Niamh, which I think they'd agree is good by our standards. The museum was eerily quiet, in contrast to the usual wall-to-wall toddler chaos. It might be because they're refitting bits of it and the cafe was closed or maybe it was just a happy consequence of going there during term-time. Either way, it meant that for the first time we could go to the busy bees session in the garden pavilion. Normally getting hold of a few ticket involves queuing for half an hour with restless toddler in tow…hence not being very interested. This time, though, we were just handed tickets for the next session by a man in lilac trousers who I'd assume worked there. We killed a few minutes in the aquarium and then crossed the outdoor area to the garden pavilion.
I wasn't entirely sure what Busy Bees was, but it turned out to be a storytelling and singing session, partly curated by a monkey called Bob. The story was a whimsical little tale about the sky and the earth and I'll be honest….I didn't entirely follow the plot But Eva and Niamh enjoyed the puppets, the singing and the actions so I guessing plot cohesion isn't a priority for them.
At the end, there was a chance to handle some of the museum's treasures, which had a loose link back to theme of the session (Earth–>gardens–>fruit and veg–>instruments made from gourds). Eva just liked the things that made noise, and getting a sticker. Then we saw a llama: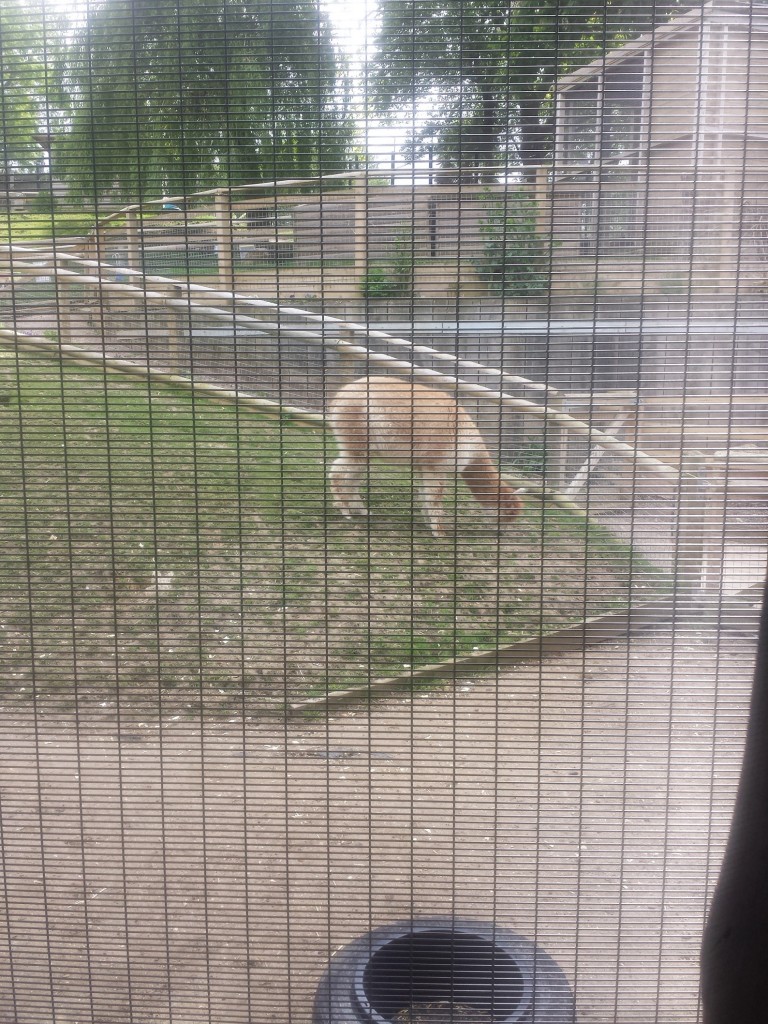 It was lunchtime. With the cafe closed, we had to eat in the conservatory which is very pretty but does feel a little like a greenhouse in the sun. It was nice that it was so quiet though…avoiding the usual Horniman lunch scrum made for a altogether calmer experience. The options were a bit limited, but they still had sandwiches, kids lunch boxes, panini and a few hot items. Plus you can still pay by card, which is always my worry with pop up cafes. Eva's fairly averse to anything with a nutrient in it at the moment, so she mainly ate crisps but she did bite her sandwich and spray Maria with juice from her orange so that's a toddler's RDA of vitamins, right?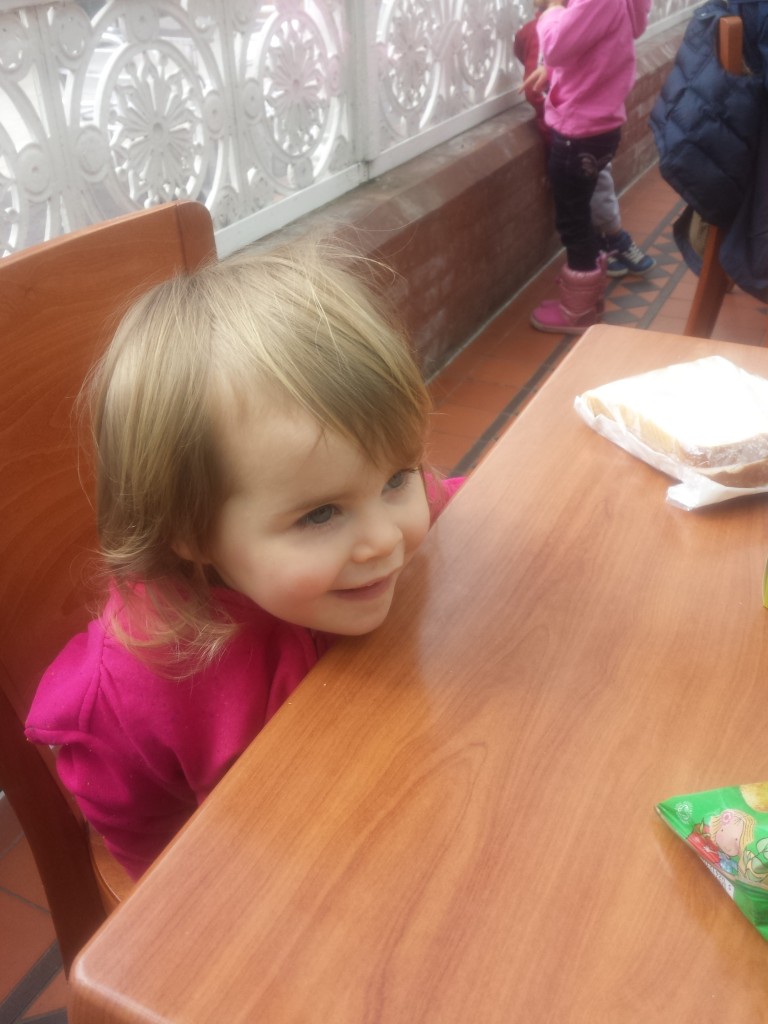 We were running out of time but I wanted to visit the new exhibition, "Extremes" so we did that. As you can probably guess, it's about the extremes of life on earth – dry places, cold places, dark places. The last was presented in a somewhat creepy way (intentionally so), where you grope your way along a pitch black tunnel, feeling the outline of creatures on the wall. This being the taxidermy centre of South London, you never quite know whether the creatures are real or not (or whether they have been real at some point) so it was a bit disconcerting. But full marks for interactivity!

The interactive exhibits continued, with Niamh's favourite…a scale where you could measure how much water you had in your body by weighing yourself against 5l bottles of water
Conclusion was she didn't have much because she's quite small. I'm less small, apparently. I hate scales.

So onto Eva's favourite bit….a screen where you could photograph yourself against some Arctic tundras. I used the console bit to send the photo to Nathan at work, who very nearly deleted it as spam before realising that a spammer had somehow got hold of a picture of his little girl. I do love to confuse Nathan and it's so easy to do! Why don't you send Nathan a confusing e mail today? It's easilyconfuxed@gmail.com (not to be confuxed with easilyconfused@ the same provider. I don't know who owns that and we don't want to confuse them)
I think I may have gone off on a tangent there which involved setting up an entirely new Gmail account so that people could confuse my husband. Time well spent but where were we? Did I mention the heat detector cameras yet?
Or the  button pressing games? The breath measurer? The bizarrely intimate bit with the ostrich? I didn't? Ah well, you'll just have to go there and find out on your own. But let me tell you one last thing….Don't trust this button.